As her Stranger Things co-star David Harbour delivers an impassioned speech, the actress basically goes through the entire spectrum of human emotion
The SAG Awards was certainly one star-studded affair last night.
Everyone from Emma Stone to the Orange Is The New Black cast took to the red carpet – but there was one person in particular who got people talking.
See: SAG Awards 2017: All The Red Carpet Pictures
Winona Ryder appeared on stage with the Stranger Things cast, who picked up the gong for Best Cast In A Drama Series.
Her co-star David Harbour delivered an impassioned speech, in which he appeared to slam President Donald Trump's recent executive orders. He said: 'In light of everything that's going on in the world today, it's difficult to celebrate the already-celebrated Stranger Things.
'But this award from you who take your craft seriously and earnestly believe, like me, that great acting can change the world is a call to arms from our fellow craftsmen and women to go deeper.
'And through our art to battle against fear, self-centeredness and exclusivity of our predominantly narcissistic culture and through our craft to cultivate a more empathetic and understanding society by revealing intimate truths that serve as a forceful reminder to folks that when they feel broken and afraid and tired, they are not alone.
'We are united in that we are all human beings and we are all together on this horrible, painful, joyous, exciting and mysterious ride that is being alive.
'Now, as we act in the continuing narrative of Stranger Things, we 1983 Midwesterners will repel bullies, we will shelter freaks and outcasts, those who have no home. We will get past the lies, we will hunt monsters. And when we are at a loss amidst the hypocrisy and the casual violence of certain individuals and institutions.
'We will, as per Chief Jim Hopper, punch some people in the face when they seek to destroy the weak, the disenfranchised and the marginalised!'
See: 5 Things You Missed From Last Night's SAG Awards
But as the rest of the cast cheered and clapped, Winona, er, appeared to go through every human emotion possible.
Here are some of her best faces…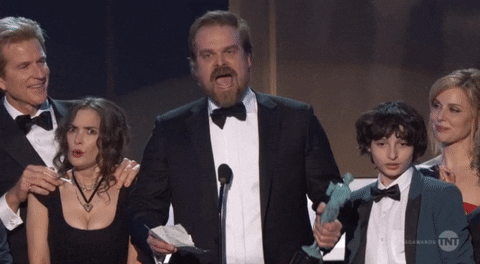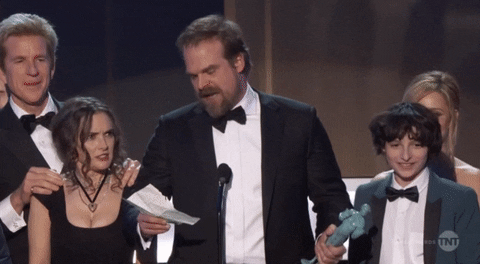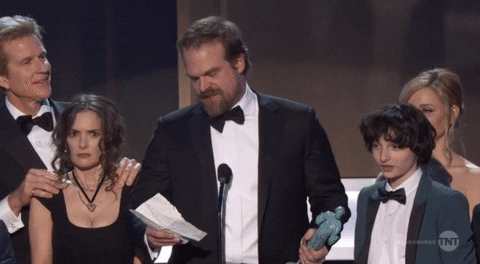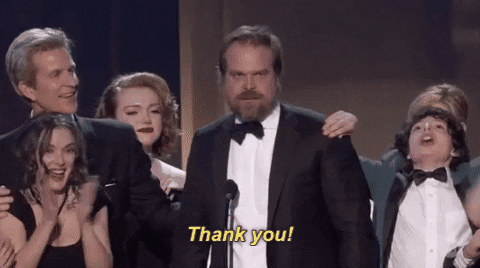 Of course, the 45-year-old actress instantly went viral. Tweets included: 'Winona Ryder is the meme of 2017 oh yas,' 'Winona Ryder just served up a year's worth of GIFs in one acceptance speech. #sagawards #SAGS,' and: 'Winona Ryder's facial expressions deserve their own SAG Award.'
LOLz. But TBH, we'd be pretty shell-shocked if we'd just won a huge award in front of hundreds of people.
So we're saying congratulations, to both Winona and the rest of the Stranger Things cast. Well deserved!