While you were sleeping, THIS was going down...
The SAG Awards kicked off at LA's Shrine Exposition Center last night – and it was certainly one glitzy affair.
With guests from Emma Stone to the Stranger Things kids, there was a whole lot going on. Here's what you missed while you were sleeping…
See: SAG Awards 2017: All The Red Carpet Pictures
1. Things got political
With the ceremony coming just over a week after President Donald Trump's inauguration, a number of speeches (not unexpectedly) turned to his controversial executive orders.
Stranger Things' David Harbour passionately told the crowd: 'We 1983 Midwesterners will repel bullies, we will shelter freaks and outcasts, those who have no home. We will get past the lies, we will hunt monsters.
'And when we are at a loss amidst the hypocrisy and the casual violence of certain individuals and institutions, we will, as per Chief Jim Hopper, punch some people in the face when they seek to destroy the weak, the disenfranchised and the marginalised!'
Julia Louis-Dreyfus said: 'My father fled religious persecution in Nazi-occupied France. I'm an American patriot. And I love this country, and because I love this country, I am horrified by its blemishes, and this immigrant ban is a blemish and it is un-American.'
Taraji P. Henson added: 'When we put our differences aside and we come together as a human race, we win. Love wins. Every time,' while Ashton Kutcher welcomed: 'Everyone in airports that belong in my America. You are a part of the fabric of who we are. And we love you and we welcome you.'
See: SAG Awards 2017: Best Beauty Moments
2. Meryl Streep fixed Ryan Gosling's bow tie
…and we have never wanted to be Meryl Streep more.
3. Winona Ryder's reaction to David Harbour's speech went viral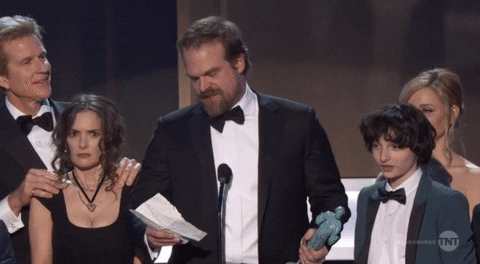 She literally made every single face possible – and it brought the internet A LOT of joy.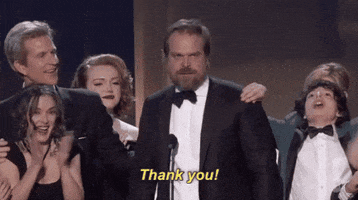 4) Michelle Williams brought BFF/Dawson's Creek co-star Busy Philipps as her date (again)
The ladies had so much fun at the Golden Globes together they couldn't resist teaming up again. Two words = Friendship goals.
Oh. And those matching metallic dresses? LOVE.
5. Pink was the colour of the night on the red carpet
Michelle Dockery, Claire Foy and Sophia Bush all completely nailed it.