Since the fourth Bourne film back in 2012 there has been a rather large, Jason Bourne shaped hole in our lives.
The super popular movie franchise based on a trilogy of books titled, The Bourne Legacy first hit cinema screens in 2002. Fast forward to 2015 – and four mega dollar making movies later – and the fifth Bourne film is now in production.
Set for release in July 2016, the film is yet to be titled and its name on IMDB still reads as Untitled Matt Damon/Bourne Sequel. How mysterious. The cast started filming the action spy thriller last week in LA and here is what we know so far…
1) Matt Damon is BACK
The most exciting news of all is that Matt Damon is reprising his lead role in the film. Damon did not appear in 2012's The Bourne Legacy but played Jason Bourne in the first, second and third films. We haven't seen Matt Damon's Jason Bourne since 2007 and Damon famously said he wouldn't revisit this character. Talking to The Telegraph in August 2007 Damon said, "We have ridden that horse as far as we can." Damon fans will be pleased that the Oscar winning star has changed his tune then. We're excited for action filled scenes like this…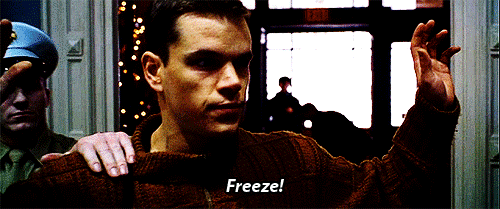 and maybe a few more shots of Damon like this…
@LeDoctor
2) Producer Frank Marshall is teasing us with BTS pics
Frank Marshall – the legendary producer behind Back To The Future, The Sixth Sense and Jurassic Park –  is back to produce his fifth Bourne Film. And Marshall has been building some serious hype around the movie via social media. He was in fact the one to announce Damon was back as Bourne with his Twitter pic captioned, 'First day of principal photography complete and happy to report, BOURNE is back! #Bourne2016'.
And he's shared exclusive behind-the-scenes snaps of the filming like this…
  @LeDoctor 'Nice to have the band back together!#Bourne2016#mattdamon'
3) Paul Greengrass will direct
After directing two of the prior Bourne films – The Bourne Supremacy and The Bourne Ultimatum – Greengrass is back for the fifth installment. With the English director in the hot seat we can expect more of the shaky, hand-held shot filming we've seen in his other two Bourne films.
Having Greengrass as director was apparently one of the conditions for Matt Damon signing on to the fifth film
4) There's a kick-ass new female lead
It's been reported that up and coming Swedish actress Alicia Vikander will star opposite Matt Damon in the new film. Vikander's rise to fame has seen her starring in Ana Karenina and The Fifth Estate but her most prolific role was in the recent Ex Machina. Her part in the new Bourne film has yet to be announced but the more female characters the better we say.
Alicia Vikander is set to play the new female lead
5) Julia Stiles will reprise her role of Nicky
Stiles in the original Bourne film
We might remember Stiles for her roles in some of our favourite films of the early noughties, namely 10 Things I Hate About You and Save The Last Dance, but the actress also starred in both 2002's The Bourne Identity and 2004's The Bourne Supremacy. Stiles will be playing Nicolette "Nicky" Parsons, a CIA analyst who proved in the previous films to be a valuable ally to Damon's amnesiac superspy, Jason Bourne.
Are you excited?
By Elizabeth Bennett