Pitch Perfect 2. We literally have not stopped laughing since watching it. And a lot of those LOLs have been down to one lady: Rebel Wilson. The movie star has been on our radar since she totally stole the show in Bridesmaids alongside Kristen Wiig. The Australian born star is hilarious on and off screen (seriously, you have to follow her on Twitter) so we've rounded up her best ever quotes. Get ready for your day to go so much better…
Rebel Wilson
Rebel Wilson on… Brad Pitt:
'I've only met [Brad Pitt] once before. Well, I didn't really meet him. I kind of just stood behind him and smelled his hair. It smelled really good.'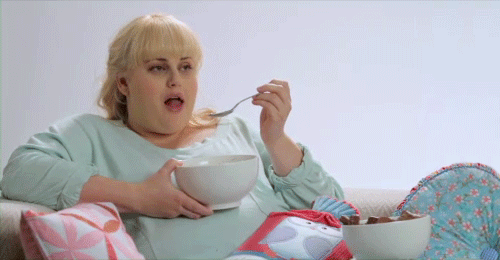 Rebel Wilson on… Lazy Days:
"Just so we're all clear: I didn't get out of pajamas all day today… but I did go to the fridge eight times."
Rebel Wilson on… The Next Big Movie Hit
"Gone Girl 2: 'Fat Amy' instead of 'Amazing Amy' …think of the possibilities."
Rebel Wilson on… Marathons
"Who can train for a marathon? I'm currently training to be able to blow dry AND straighten my own hair without having to take  a break."
Rebel Wilson
Rebel Wilson on… Hobbies
"My hobbies include: pressing snooze on my phone alarm and then 9 minutes later pressing snooze again."
Rebel Wilson… on Relaxation
I've got a swimming pool and I pretend to be like a mermaid, like in the middle of the night. It kind of de-stresses me.
Rebel Wilson
Rebel Wilson on… Titles
"I've just recently started calling myself 'a property mogul'… I just like the way it sounds… much cooler/versative than 'donut taster'"