We're morbidly curious about what goes on in Buckingham Palace. How many toilets are there? Do the staff ever climb into the beds when no-one is around? How's the wi-fi speed? And, to the matter and hand, what does the Queen watch on TV on her downtime?  She's a fan of Emmerdale, that's a given and probably had plenty of time to catch up after shaking off a nasty cold with plenty of bedrest.
We don't have proof of that but c'mon, if she's a fan of soap, it's got to be 'Dale over Eastenders. We're not sure whether Liz has her own Netflix account (or uses Harry's without asking) but what we do know is that she's a massive fan of Pointless.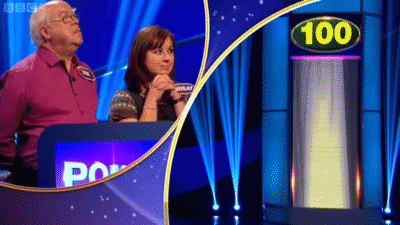 If you've been depriving yourself of your daily dose of Alexander Armstrong and Richard Osman, this teatime show is definitely worth a watch. Especially now we know that the Queen is a big fan of the show. She's seen a lot of gameshows come and go so it speaks volumes that Pointless is worth her time.
We know this because, in a recent interview with the Radio Times, hosts Osman and Armstrong revealed that an 'insider' that works in Buckingham Palace informed them that Liz tunes into the teatime gameshow regularly.
Elle UK reminded us of that recent clip that was making the rounds on the internet of the ultimate side-eye. It's moments like this that makes Pointless a favourite with the toughest crowd in the country.
So across her reign, what other shows has Liz been digging into? We can't imagine she has the stomach for Game Of Thrones or the time for The Wire.
However, she has the same vices as the rest of us. Namely, watching shows that just aren't good because of reasons beyond our control, once admitting, "I don't like The Bill but I just can't help watching it".
Also, A DVD boxset of Doctor Who (unspecified era) was once requested by the Queen while staying at Balmoral.
We didn't see that one coming.