Along with totally reinventing the way we watch TV (oh hi 10 hours bingeing on Making a Murderer), Netflix is also responsible for a whole host of memes thanks to the now-famous concept of 'Netflix and Chill'.
In case you have been living under a rock for the last few years (or just need a reminder) Netflix and Chill is a euphemism for hooking up. And some of the memes they've given us are priceless.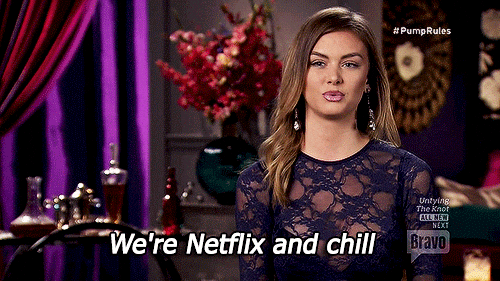 If memes do not express your love for Netflix enough, how about a whole apartment dedicated to the streaming service? Yep, there is a now an apartment in New York inspired by exactly this.  
The idea is the brainchild of Tom Galle and 'internet-art company' ART404, and available to hire for £289 a night via Airbnb.
The first ever 'Netflix and Chill' apartment
Speaking to Buzzfeed about the concept Galle said :"We've been playing around with the idea of bringing a meme to life and offer it as a real experience. The Netflix and Chill meme sort of naturally came up as the right subject to build a project around, and the more we started thinking about it the more we felt like we should do this ASAP."
According to the Airbnb listing the rental comes with everything you need for the ultimate night in. Situated in the West Village the property comes with a Netflix and Chill bed (complete with Netflix themed sheets), A HD projector connected with the new AppleTV and Netflix account, and a fully-stocked bar.
Netflix bedding and a well stocked bar – what more could you want?
But if you're thinking of having a Netflix party, think again. The listing states: "We can't allow you to have additional guest over the apartment, and that is a serious request. This is an exclusive experience for 2 people only." Right…
Watch Netflix on the big screen
According to Galle they have been inundated with requests about the apartment so you better move quick if you fancy a bit of the action.  
By Elizabeth Bennett