Um. So we've got some Friends news for you that we NEVER thought we'd have.
Two of our favourite cast members have sparked rumours that they're dating… and it's not the ones you'd think it would be.
You may remember those reports about Courteney Cox and Matthew Perry (AKA Monica and Chandler) hooking up for real last month.
Courteney Cox was linked to Matthew Perry last month
Courteney, 51, was said to have been spotted on dates with her former on-screen husband, which sent pretty much every 90s kid into a minor meltdown.
But there was one small problem with these rumours.

See: Are Courteney Cox And Matthew Perry *Really* Dating?!

This meme sent Friends fans into quite a frenzy
They seemed to emerge after a meme of Courteney and Matthew, 46, went viral earlier in the month. It featured a picture of them out eating alongside one of them in Friends.
It had been given the caption: 'Matthew looks at Courteney the same way Chandler looks at Monica and I don't know what to do with myself.'
Courteney Cox and Matthew Perry have stayed in touch
Adorable, right?! However, the photo was actually taken in March 2005, with Courteney's wedding ring from ex-husband David Arquette clearly visible on her left hand. Boo.
Now it's been alleged that Courteney is actually seeing Matt LeBlanc, better known as Joey Tribbiani. WHAAAT?!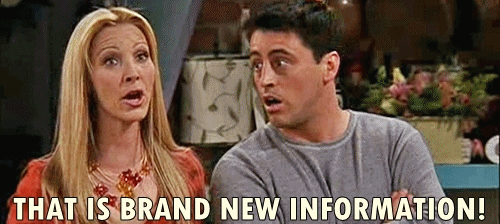 These suggestions came about after the Friends cast reunited in LA for the filming of Must See TV: A Tribute To James Burrows on Sunday, a show honouring the prolific sitcom director.

See: You'll Want To See The First Photo Of The Friends Reunion

The pair were snapped sharing a kiss as they left the gala, a gesture that (naturally) got everyone talking. Ooh.
The Friends cast reunited (sans Matthew Perry) on Sunday
But on closer inspection, it was clear that they were just enjoying a teeny chum-like peck. In fact, Jennifer Aniston and other guests were standing right next to them.
Not exactly a romantic scenario, eh?
Basically, we just think ANY Friends hook-up would be adorbs
And just in case anyone's still holding out any hope, Matt's representative has since denied to Gossip Cop that he and Courteney have something going on.
Ah well. At least they're still good Friends.