The internet is buzzing with a fresh new Love Actually fan theory. And by golly, it's a good one.
It's so good, in fact, that we can't quite believe that we've never noticed it before.
Thanks to a very attentive viewer on Twitter, who just so happens to write for Buzzfeed in the US, we've discovered a brand new romance from the love-in that is our favourite festive film.
Remember Daniel and Karen? Also known as Liam Neeson and Emma Thompson? Of course you do. 
The proof? Over to you, Jen Lewis:
Twitter: @thisjenlewis
Daniel, tragically, is dealing with the loss of his wife. Close friend Karen is right there by his side, as a shoulder to cry on, throughout the movie.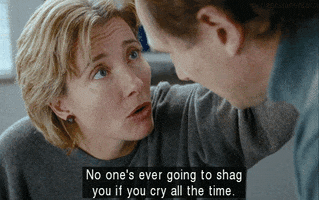 Near the end, when he meets a Claudia Schiffer lookalike (who just so happens to be Claudia Schiffer), he accidentally calls her Karen.
Is it nerves? Or the slipping of his true feelings?
Perhaps he's just been falling in love with Karen all along.
Oh, Buzzfeed.
Minds. Blown.
Love Actually has been fresh on everyone's minds of late, ever since the emergence of a deleted scene, and a whole new – and heartbreaking – love story.
We all have a favourite storyline in Love Actually, right?
Maybe you're obsessed with Prime Minister Hugh Grant's dalliance with Downing Street junior Martine McCutcheon, or your heart melts everytime you re-watch Thomas Brodie-Sangster's romantic airport dash.
Then there's Colin Firth's unspoken romance with Portuguese housekeeper Aurélia, Alan Rickman's heartbreaking betrayal of Emma Thompson, Laura Linney's infatuation with her colleague… we could go on.
We *all* loved Hugh Grant and Martine McCutcheon's cute romance
But there were actually a few relationships from the 2003 film that we DIDN'T get to see.
A tragic sequence involving a same-sex couple has emerged from the cutting room floor, which was filmed and edited but didn't make the final movie.
It stars Anne Reid as a headmistress at the school Emma Thompson's character's children attend.
The deleted storyline was a spin-off of Emma Thompson's
We first see her giving one of the kids a stern telling-off, but when we're transported to her home, a much softer side is revealed.
She returns from work to tend to her terminally-ill partner Geraldine, played by Rising Damp and Harry Potter actress Frances de la Tour.
The storyline featured Anne Reid as a strict headmistress

See: Chick Flicks: The Top 17 You Need To Watch This Weekend

Geraldine is comforted by the headmistress as she coughs weakly in bed, although she still manages to laugh about the tribulations of the school day.
Heartbreakingly, a later scene from the school's nativity play sees Emma give a moving speech about how Geraldine has passed away. 
Frances de la Tour played Anne Reid's terminally-ill partner
Director Richard Curtis has explained that the story was conceived to show that everyone has a back story.

See: 13 Times Romcoms Summed Up Our Love Lives

He says: 'The idea was meant to be you just casually met this very sort of stern headmistress, and the idea was meant to be that later on in the film we suddenly fell in with the headmistress.
The short sequence was supposed to convey that everyone has their own story of love
'You realise that no matter how unlikely it seems, that any character you come across in life has their own complicated tale of love.'
Watch the cut scenes below…