Um, have you heard these INSANE rumours about Louis Tomlinson's baby?! If not, let us explain…
The One Direction singer welcomed son Freddie Reign with American stylist Briana Jungwirth back in January.

See: Louis Tomlinson Shares First Photo Of Baby Son Freddie

Louis Tomlinson and Briana Jungwirth co-parent their little boy
Louis, 24, and 23-year-old Briana aren't together, but they seem to have settled into parenthood well. In fact, Louis has stated in numerous interviews that he's enjoying being a father.
But for some reason, some Directioners are convinced that little Freddie isn't real. Errr.
Instead, they believe ridiculous rumours that Louis and his bandmate Harry Styles are actually a couple (known as Larry Stylinson), despite the fact that they've denied this numerous times.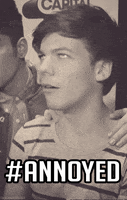 #Babygate blew up well and good this week, after Buzzfeed penned a post that explained the conspiracy theory in detail.
We're not going to go into it all right now (we mean, who has the time?), but it basically involves a lot of questions over Photoshopping, 'stolen' pictures and, er, the suggestion that Freddie's a doll.
Harry Styles and Louis Tomlinson have denied relationship rumours numerous times
This is due to the fact that the majority of snaps have shown the bubba with his eyes closed and his right hand in a similar position.
Oh, and the 'rigidity and angle' of his feet in this image…
Riiight. However, Briana has now hit back at the claims.
She finally came to the end of her tether after seeing an Instagram edit of Louis and Freddie, in which the tot's face had been blanked out and the caption: 'Where's Freddie? #LarryisReal' had been written.
Briana Jungwirth commented on this photo. Picture: MTV News
She commented on the shot: 'Sorry but that is just cruel. I don't usually speak out much, but I'd like to know how would you feel as a new proud mother reading something like this.

See: Has Louis Tomlinson Reached Full Rock Star Status?

'How dare anyone call my child fake. That's sick and morally wrong. Say all you'd like but I won't let anyone take away the happiness I have for my baby son. I know Louis won't either.'
Baby Freddie with his eyes open?! Who'd have thought it?
You tell 'em, lady. Louis also seems to have responded, posting a photo of Freddie with his eyes open. We know, SHOCKER.
*Sigh*. It's a crazy ol' world, isn't it?