Leonardo DiCaprio has famously been nominated five times for the prestigious Best Actor Oscar, but has never walked away with a golden statue in hand (sob!). Could this be his year?
If the bookies odds are anything to go by then the answer is yes. In fact, according to bookmakers William Hill, Leonardo has become the shortest priced favourite in Oscar betting history. Leo's odds to win stand at 1/100 (i.e. you need to bet £100 to win just £1), and since October 97% of ALL bets for Leo to win. It appears we're not the only ones who are hoping and praying that bags he big prize this year… 
Well, fellow nominee Eddie Redmayne thinks Leo's performance in The Revenant will seal the deal.
"[Leonardo is] definitely going to win and should. I feel excited just to be invited to the party, frankly."
Eddie and Leo's competition is tough, though. They've got to beat Bryan Cranston (Trumbo), Matt Damon (The Martian), and Michael Fassbender (Steve Jobs).
We have everything crossed we'll be cheers-ing to Leo on Sunday night.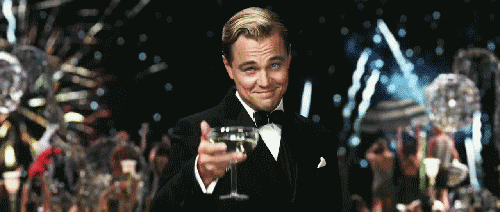 Let's be honest, this year's Oscars buzz is all about Leonardo DiCaprio.
In case you've been living under a rock for the past week, the 41-year-old has received a Best Actor nomination for his role as Hugh Glass in Alejandro G. Iñárritu's survival drama The Revenant.
He's already picked up the Golden Globe for Best Actor In A Drama, and is arguably the favourite to win. But he's up against some stiff competition.
Eddie Redmayne's been praised for his performance in The Danish Girl
Leo's fellow nominees include Eddie Redmayne for his portrayal of Lili Elbe in The Danish Girl, one of the first known recipients of sex reassignment surgery.
There's also Michael Fassbender for his eponymous part in Steve Jobs, Bryan Cranston as screenwriter Dalton Trumbo in Trumbo and Matt Damon as The Martian's Mark Watney.
Not exactly a shabby category, eh?
Michael Fassbender stars alongside Kate Winslet in Steve Jobs

See: Leonardo DiCaprio And Kate Winslet Have A Titanic Reunion

This is the sixth time Leo's been nominated for an Academy Award, having previously received three Best Actor nods, one Best Supporting Actor and one Best Picture (as producer).
So we reckon (understandably) that he's fairly keen to be announced as the recipient of the prestigious gong on 28 February.
Leonardo DiCaprio walked away victorious at the Golden Globes
There's someone pretty special who's got his back too – his Titanic and Revolutionary Road co-star Kate Winslet.

See: 8 Times Kate Winslet Taught Us Everything About Love

The 40-year-old appears in Steve Jobs alongside Michael, even bagging a Best Supporting Actress nomination for her stunning performance as Steve's confidant Joanna Hoffman.
Of course, Leonardo DiCaprio and Kate Winslet became BFFs after filming Titanic
But she's still supporting Leo, telling BBC News earlier this week: 'I think you can sort of feel it, and I think that everyone wants it for [Leonardo].
'It would be amazing. It's also slightly difficult for me to, because Michael Fassbender has been nominated, and I was his right hand woman for three months whilst we were making Steve Jobs, and I saw how hard he worked.
Kate Winslet and Leonardo DiCaprio caught up at the Golden Globes
'I think his performance is so extraordinary. But I think, yeah, you can sort of feel the temperature. It's probably going to be Leo's year.'
Aw. She'll never let go, will she?