We're just dying to know how she maintains that body...
There's no denying that Kourtney Kardashian has an ah-mazing body.
The Keeping Up With The Kardashians star has been on a health and fitness journey over the past year, so when we found out Kourtney had spilled the beans on how she achieves it and keeps herself fit and healthy, we were itching to hear with notebooks and pens at the ready.
Appearing on This Morning, Kourtney shared her workout routine to viewers. 'I try to work out six days a week,' she said. 'I love to switch it up.
'When you get too much into a workout routine your body gets used to it', she explained.
Kourtney states she also works out extra hard if she's got an upcoming event…
She reveals: 'If I know it's bikini time coming up or I have a trip or something that I want to be in extra shape for, I'll do dips on my bath tub for my triceps, and I'll try and do three sets of 25 dips a day, and no matter what, I always do squats before I get in the shower!
'I do 100 squats and those are really the only things, and I think travelling with a jump rope is an easy thing you can throw in your bag if you are travelling. It just keeps the routine going.'
Tricep dips in the bath is pretty much the biggest level of dedication going. All we want to do in the bath is sing power ballads and watch bath bombs explode…
Talking about her eating habits, Kourtney says that she loves to eat healthily. She sure does love a salad or two when she's filming…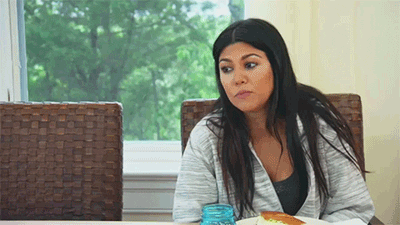 'I always like to share what I'm into,' the reality star shares.
'I was at Kim's the other day and was looking through her refrigerator, and I was like "I can't believe you have this in here, and that" and she was like, "oh my god, you are so right" and she switched a bunch of her food to organic or to whatever my things were.
'I don't know, I'm a food snob I guess! I think beauty from within is a really easy way to keep up with the beauty routine, it's a whole lifestyle.'
We definitely agree that great skin has a relationship with a good diet and an active lifestyle. Thanks for the sound advice, Kourt.
By Catherine Delves