Kim Kardashian's cry face has become a thing of legend. 
The subject of endless memes and GIFs, social media users have taken to sharing Kim's pain as a way of expressing how they feel. And we have to admit, we've joined in a number of times, too.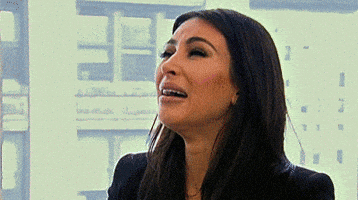 Because, LOL. 
It seems that even her sisters see the funny side, with Kourtney Kardashian poking fun at her sister's crying face in a clip from their hit reality show, Keeping Up With The Kardashians. 

See: 23 Signs You And Your Sisters Are The Kardashians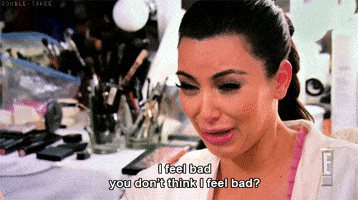 The episode, a KUWTK vacation special, aired on E! on Tuesday night. Khloe Kardashian was quick to share the clip on her own Instagram page, with the caption: 'I love these specials E! is doing from #KUWTK. Time in for tonight's episode "Keeping Up: Kardashians On Vacation"!
'Kim's ugly crying face is iconic! Kourts response is even better!'.  
The footage shows Kim sobbing and shouting at her sister Kourtney: 'It's not funny, get out of here if you're going to continue to laugh at me. I'm tired of it!'
Oh dear.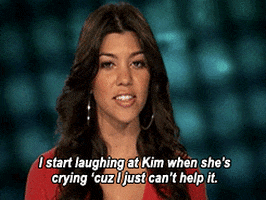 Kourtney laughs at her and says simply: 'I'm not.'
But behind the scenes, when she's alone with the camera, the 36-year-old admits: 'I start laughing at Kim when she's crying because I just can't help it, she has this ugly crying face that she makes.'
It seems that the Kardashian sisters have something of a social media war going on.
Not too long ago, Khloe shared another throwback video, this time reminiscing about the time that Kourtney had a numb face after a dentist visit – with pretty hilarious consequences.
Khloe said: 'I still die laughing every time I see this!!! Never gets old!!!!'
Apparently, Kourtney wasn't too happy, as she soon text her sister, saying: 'You had to post that video lol. Oh man. It's on!!!'
We can't wait to see what they pull out of the bag next. 
Oh, girls…