Seriously, we're never going to let go of Kate Winslet and Leonardo DiCaprio's friendship.
The pair have been BFFs since starring in Titanic back in 1997 (yep, 19 WHOLE YEARS AGO), but the sight of them next to each other still gives us all the feels.
Both actors have been nominated for a string of honours over awards season, which means we've been getting to see a lot more of them together. And now, Kate has done a gushing interview in which she reveals that speaking about Leo makes her 'emotional'. 


Read: Leonardo DiCaprio Has A Slightly Awkward TV Moment…


Leonardo DiCaprio and Kate Winslet have been BFFs since their Titanic days
Nawww.
'It does really feel as though it's Leo's year and I'm just super excited for him', the Steve Jobs actress told E News. 'And [there's] the sense of good will behind him, and that everyone wants it for him.
It's really really wonderful. I think it's real testament to that fact that he's such a lovely person and that people really not only admire him but also really like him and respect him.'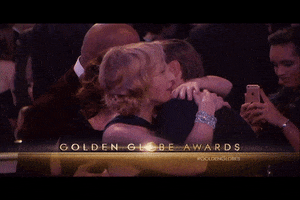 'I feel quite proud of that, it's lovely,' she added, holding back tears. 'I keep getting emotional when I talk about Leo.' God, just GET TOGETHER ALREADY.
We're not going to lie, every time these two talk about each other, our 90s hearts just cannot cope. Oh, Jack and Rose…

See: Kate Winslet Thinks Jack Dawson Could Have Fit On *That* Door

Leonardo DiCaprio and Kate Winslet played tragic lovers Jack and Rose in Titanic. Picture: TM & 20th Century Fox
This isn't the first time the 40-year-old actress has opened up about her and Leo's relationshi, either – last month, she revealed how much he's changed since they first met.
Kate told PEOPLE: 'He's a stronger actor in this moment than he's ever been. I think he's more handsome than he's ever been.
'And he feels, to me, the most settled he's ever felt, in himself, right now, which is quite strange, really, given that there's a lot happening around him.
Leonardo DiCaprio had a successful night at the Golden Globes
'He's a solid, loyal person. He's a great friend, he always has been, and not just to me, but to everyone around him. He still has friends he had when we made Titanic.'
Aw. It brings a tear to the eye, doesn't it?
Will Leonardo DiCaprio win the Oscar for The Revenant?
After years of disappointment (*sob*), Leo is finally the favourite to win the Best Oscar Actor this year, for his role as Hugh Glass in epic survival drama The Revenant.
Kate is also up for the Best Supporting Actress gong at the ceremony, having wowed as Apple marketing executive Joanna Hoffman in Steve Jobs.

See: Leonardo DiCaprio And Kate Winslet Reunite At The Golden Globes

Kate Winslet also triumphed at the Golden Globes
Last month, she picked up the same prize at the Golden Globes. But like a true pal, she was actually more interested in Leo's Best Actor In A Drama triumph.
She continues: 'To be honest with you, because I've been so focused on Leo and him winning everything and being so excited for him, I was genuinely, extremely shocked.'
Two words: Friendship goals.