Once again Kanye West was the name on everyone's lips last night.
This was thanks, in part, to his mega fashion and music takeover at New York City's Madison Square Garden.
His Yeezy Season 3 collection made a serious impact on the thousands that packed out the venue, which included some of the fashion elite – Anna Wintour gave her seal of approval for Vogue US – and some of Kanye's music pals.
The Kardashian family was out in full force, with wife Kim Kardashian and all of her famous sisters turning out wearing Yeezy X Balmain.
But, in true Kanye style, it wasn't just his designs that got everyone talking.
Taking the opportunity to debut his highly anticipated T.O.L.P. album in its entirety, there was one track that stood out a mile.
In fact, it wasn't so much a track, but two lines from his new song Famous.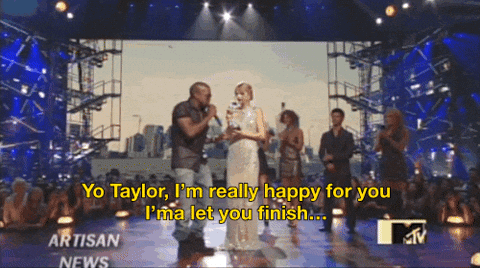 The lyrics in question seemed to refer to pop singer Taylor Swift: 'I feel like me and Taylor might still have sex / Why? I made that bitch famous'. 
The pair have had a rocky past, after that awkward encounter between Kanye and Taylor at the VMAs. 
Social media erupted at hearing the rapper's new line. 
Taylor's brother Austin definitely wasn't happy. In fact, he decided to throw away his Yeezy trainers, filming it for Instagram. He captioned his video, 'Getting a head start on some spring cleaning. Here we go again.'
According to Buzzfeed, Taylor's boyfriend Calvin Harris and close pal Selena Gomez both liked the video. 
BFF Gigi Hadid also felt the need to tweet her disapproval, despite sitting FROW-side at Kanye's event. She said, 'My attendance somewhere does not mean I agree with everything being said in the music playing there. My friends know of my loyalty.'
Blimey. 
And it wasn't just Taylor's close friends that jumped to her support. The Shake It Off singer's fans also had a lot to say. 
Kim Kardashian tweeted, 'Can we just talk about the fact that my husband had a sold out fashion show/listening party at Madison Square Garden?!?!?!?! #ProudWifeTweet' .
A fan Tumblr named SwiftStrong's comeback read, 'No Kimberly, we can't. but we can talk about the fact that he degraded a woman who has been nothing but nice and forgiving to him when she sure as hell did not have to.
'Or we can talk about the fact that he's sexualizing another woman despite that fact that he has a wife and a young daughter.
'Or we can talk about the fact that the Taylor that he claims to have made famous was literally accepting an award while he interrupted her. so no Kimberly. we f****** can't.'
Yikes. 
After their 2009 encounter, Taylor Swift and Kanye West famously made up at the VMAs last year
So, how does Taylor herself feel about all of this? 
TMZ reported that Kanye had phoned Taylor to tell her about the lyrics, and that she had given him the thumbs up. 
In response to this, her publicist issued a statement saying, 'Kanye did not call for approval, but to ask Taylor to release his single "Famous" on her Twitter account. She declined and cautioned him about releasing a song with such a strong misogynistic message.
'Taylor was never made aware of the actual lyric, "I made that bitch famous."'
Kanye might have some making up to do…