J. K. Rowling Reveals The HP Secret She Told Alan Rickman
Harry Potter fans will know and remember that J. K. Rowling divulged a special piece of information to Alan Rickman, all those years ago when he first filled Snape's black leather shoes. 
Of course, when filming began on the Harry Potter films, Rowling had not yet published the final installments of the book series.
So Rickman, like us, was completely in the dark as to how the epic story was destined to end, as well as the fate of the characters – including the potions master we loved to hate. 

See: 11 Snape GIFs That Will Give You All The Feels

Alan Rickman previously admitted that he was treated to 'one tiny, little, left of field piece of information' which helped him to develop the on-screen character.
Time-turn back to 2011, when the actor told HitFix: '[It] helped me think that he was more complicated and that the story was not going to be as straight down the line as everybody thought.
'It was important for her that I know something, but she only gave me a tiny piece of information which helped me think it was a more ambiguous route.'
He has never revealed exactly what Rowling told him, so when he tragically passed away last week, fans were left wondering if we would ever know the secret. 
J. K. Rowling has honoured him by bringing fans that little bit closer to the story, taking to Twitter and explaining that it all boiled down to that all-important word: always. 
The author replied to a fan, 'I told Alan what lies behind the word "always".'
This word signifies the moment that Snape admitted his everlasting love for Harry Potter's mother, Lily. 
In the final book, Snape explains why his Patronus took the same shape as the one belonging her.
We also learn that Severus had been acting as a double agent – yup, he'd been on Harry Potter's side all along.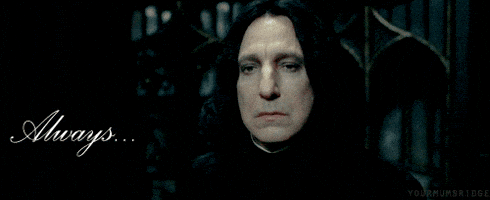 Fans had been sharing the moment in GIF form to remember Alan Rickman, after the sad news broke.
Always.