The Great British Bake Off is back. This means two things: for the foreseeable future, we're set to spend our Wednesday evenings lusting after cake, and giggling into our very own shop-bought snacks at the perfectly timed innuendos. 
Because, who doesn't like to LOL at a soggy bottom every now and then? 
The new series kicked off in top form. And we were there, keeping up with all of the action, and – of course – spotting all of the witty puns along the way. 
How many did you spot? Or, perhaps we should be asking, which ones did you miss? 
1. "Your crack is nice and moist"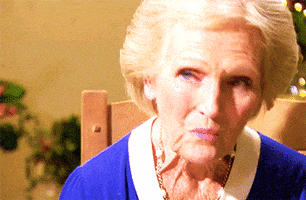 Madeira cake was the perfect opening act. It's a true classic. And that signature crack paved the way for many LOLs. 
2. ALL the nuts. 
Sorry to disappoint you, but we're talking walnuts. 
With the task of chopping up their nutty assets – *ahem* – we were treated to a number of giggle-worthy comebacks. 
Our personal favourite came from Mary Berry herself: "Caramel has flowed around the nuts but I rather like that…"
WHAT a mash-up. 
3. The show stopper whopper
Yes, the final round pretty much won in the category of crumb-spitting hilarity. 
"I can't wait to romp in your forest" was the only reasonable response to a contestant looking to create little chocolate animals to go alongside his tasty trees.
Right? Right.
4. Ganache sounds surprisingly like….
Yes. Some viewers actually went there.
And Mary likes a nice 'shine' on her Ganache.
5. And there's always room for the classic
s
Yup, Mary's 'creaming method' is back. 
Standard. 
6. "We've caught you with sticky hands"
Erm…
Watch this space for even more knee-slapping fun, as we keep a close eye on the innuendos as they get better and better each week…
By Laura Jane Turner