Halloween and Bonfire Night have been and gone which officially marks the run up to the holidays. The more traditionally minded will let you know that the Christmas run-up begins on December 1st but that's just not the way we do Christmas anymore.
With the world being as dark as it is, we could really use some holiday cheer to get us through the depressing hell-storm that 2016 has been for so many of us.
So keep your spirits high and get pumped, the holidays are just around the corner!
1. The Starbucks Switch 
Costa have already made the jump but their holiday cups don't hold the same weight. Only a few more days before Starbucks officially release their Red Cups. Grab yourself a hot chocolate on a blustery evening to really get into the spirit.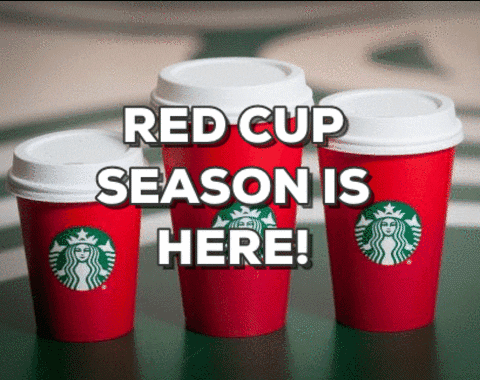 2.The Advent Calendar Decision
Only a few more weeks until you buy your advent calendar! Are you going to go classic Cadburys or try something a bit more adventurous?
3. The John Lewis Ad
Rumours have been circulating for a few weeks. The #BounceBounce rumour could be legitimate but we'll have to wait until Friday 11th November for your best chance of seeing the advert of the year.
4. Christmas Lights Have Just Appeared In Your Town
Where did they come from? Were they always up and the darker evenings just made you realise they were there? Either way, the night time just got a little bit more enchanting.
5. Mariah Carey Is Making That Youtube Money 
People have already it's time to blast 'All I Want For Christmas Is You' in their offices, and the statistics show it.
6. Michael Bublé Has Crawled Out Of Hibernation
Michael Bublé reserves his energy for the holidays, when we need his silky tones most. Nothing feels more festive than seeing the man himself belt out some classic ballads.
7. Your November And December Pay-Days Won't Be So Jolly
Wow. You don't realise how big your family is and how expensive socks are until it's time to start your Christmas shopping.
8. Christmas Adverts Have Already Turned Up
Tesco seem to be leading the charge with this 'Bring It On' slogan. Very sneaky to try and make an advert about how early Christmas adverts arrive…
9. Pret A Manger Christmas Sandwiches
Starting today, Pret are starting to peddle their new range of Christmas sandwiches. We know where we're going for lunch every day until 2017!
10. The Christmas Party Is Already Booked
Better book the next day off work…