Even the actress's La La Land co-star Ryan Gosling couldn't hide his confusion...
Emma Stone had a pretty successful time at the SAG Awards last night.
The 28-year-old picked up the gong for Best Female Actor, for her ah-mazing turn as struggling actor Mia in hit musical-drama La La Land.
See: SAG Awards 2017: All The Winners
She beat Meryl Streep for Florence Foster Jenkins, Amy Adams for Arrival, Natalie Portman for Jackie and Emily Blunt for The Girl On The Train – and clearly felt somewhat overwhelmed by this fact.
After collecting her award at the Shrine Exposition Center in Los Angeles, she appeared overcome with emotion as she gave her winner's speech.
See: 5 Things You Missed From Last Night's SAG Awards
With the clock ticking on her allowed time on the stage, she admitted to the crowd: 'I forgot everything that I ever have thought in my life.'
Eeeep. Even her La La Land co-star Ryan Gosling looked a little confused, frowning as he looked on from the audience.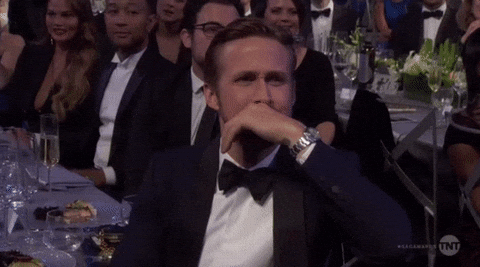 But ever the professional, Emma managed to pick herself back up.
Sounding more confident, she continued: 'Thank you so much to [director] Damien Chazelle for this opportunity and for creating such a collaborative and beautiful atmosphere on set, we felt so heard by you.'
Turning her attention to Ryan, 36, she said: 'Ryan, you're the best, that's just the truth. No-one can argue it.'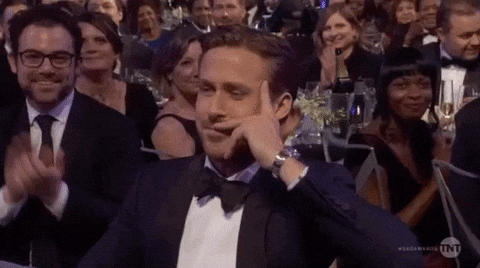 As she was hurried by the teleprompter, she quickly added: 'I was just going to say that I feel insecure a lot of the time, genuinely, and feeling like I could deserve any of this requires a bit of mental gymnastics for me.
'To get to be a part, even a tiny, tiny part, of a group of people that cares about reflecting society and bringing people joy and making them laugh and giving people hope, maybe, or, God, I know I have to wrap up, I feel like I'm going to faint!'
Emma finished off by referencing President Donald Trump's controversial executive orders, saying: 'We're in a really tricky time in the world, in our country, and things are very inexcusable and scary and need action and I'm so grateful to be part of a group of people that cares and wants to reflect things back to society so thank you.
'I said that twice, I'm sorry. Thank you goodbye.'
She then collapsed her head and turned to leave the stage, receiving a hug from presenter (and her Superbad co-star!) Jonah Hill.
Aw. It's nice to know Emma's just like us, eh?