Everyone loves a fan theory. They plague cult hits like Harry Potter, Love Actually – and, of course, Disney. 
There's one theory that seems to be making waves across the world wide web right now. And it involves Disney classics Beauty and the Beast and Aladdin. 

See: The Internet Freaks Out As This Aladdin Theory Is Confirmed

If you're as fanatical about Disney as we are, you might have already heard this one. But we love it so much, that we're happy to run through it again.
Now, surely you remember that the beautiful Belle is ALL about reading. She sings a whole song about it, after hitting up her local book shop and making off with her favourite novel.
Belle tells the shop keeper that it features 'far off places, daring sword fights, magic spells… a prince in disguise!'
Has this jogged anything yet? Here's the kicker…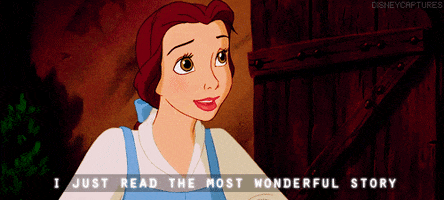 Singing about her favourite part – to a very attentive sheep – she says, 'Here's where she meets Prince Charming, but she won't discover him until chapter three.'
Yup, this sounds exactly like the story of Aladdin. Princess Jasmine breaks out of the palace and bumps into her prince.
But. He's a poor street boy. And she doesn't discover his 'prince' persona until later on. Chapter three, perhaps?
What makes this theory even more compelling is a look at the release dates. 
Beauty and the Beast came out November, 1991. Aladdin hit screens just one year later, in November, 1992.
Oh, Disney. How you tease…