Friends fans… we may have some bad news for you.
Rumours have been flying around the internet that Courteney Cox and Matthew Perry (aka Monica and Chandler) are REAL-LIFE dating, but according to an anonymous source, they're all untrue.
As we all know, the pair played husband and wife on the much-loved comedy show. They clearly had a lot of chemistry, so this is something viewers have been hoping for for years.
But Courteney, 51, was married to actor David Arquette while the programme was on air, who she has 11-year-old daughter Coco with.
After their divorce, she became engaged to Snow Patrol rocker Johnny McDaid. They announced they'd parted ways last month.
Courteney Cox recently split from Johnny McDaid
This is where Matthew comes in.

See: This Alternative Friends Ending Has Really Split Opinion

The 46-year-old was said to have been spotted on dates with his former co-star, which (as expected) sent everyone into a minor meltdown.
One Tweeted: 'OMG! How AMAZING would it be if Monica and Chandler are really real!!??' while another wrote: 'If Courteney Cox and Matthew Perry got together I don't think I would be able to stop crying.'
Courteney Cox and Matthew Perry have known each other for years
We've gotta agree with that one.
But there's one small problem with these rumours.

See: 25 Things We Learnt From Friends

It seems these reports started to emerge after a meme of Courteney and Matthew went viral earlier this month. It featured a picture of the pair out eating alongside one of them in Friends.
This Tweet got people going a *little* crazy
It had been given the caption: 'Matthew looks at Courteney the same way Chandler looks at Monica and I don't know what to do with myself.'
Adorable, right? But the photo was actually taken in March 2005, with Courteney's wedding ring clearly visible on her left hand.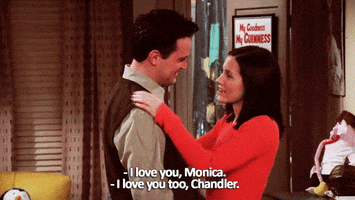 And now, an anonymous source has confirmed to Entertainment Today that the rumours are totally untrue.
Devastated? Us too. Maybe next time…