"Apologises to anyone harmed mentally or physically...."
There were SO many gorgeous celebrities walking the red carpet, but there's no arguing that all eyes were on Chrissy Teigen at this year's American Music Awards.
Arm in arm with husband John Legend, Chrissy looked absolutely gorgeous in a minimal black dress accessorised with a tonne of stacked jewellery.
While every part of her look was gorgeous, people were quick to point out Chrissy's jaw droppingly HUGE double thigh split. We'd even go as far as to coin it a belly button split as it flew WAY past the thigh.
While making her way down the red carpet, Chrissy found it a little difficult to keep the troublesome dress in place and almost exposed herself while having her picture taken. Oops!
Either way, Chrissy still looked fierce and managed to laugh through her wardrobe malfunction.
Chrissy has since posted the full details of her outfit to Instagram with a picture of her beautiful dress from all angles, captioned '#AMAs! love you so so so much @jenatkinhair @1maryphillips @monicarosestyle @kimmiekyees (apologies to anyone harmed mentally or physically by my hooha) dress is #yousefakbar and shoes are @dsquared2 and laser hair removal is @sevlaseraesthetics' [sic].
In her post, Chrissy apologised to 'anyone harmed mentally or physically by my hooha' and then continued to credit her laser hair removal.
Hil-arious.
Social media users were quick to praise her attitude and ability to poke fun at herself…
Of course, there were some people who were less than happy with Chrissy's choice of outfit, with comments such as 'um how is this okay to wear in public', 'no class in Hollywood anymore' and 'please try and save some dignity' [sic].
Errr. Not very nice, guys.
But, in true Chrissy Teigen style, she also used her razor sharp humour to cut down trolls on Twitter.
THE SASS.
That's why we love her.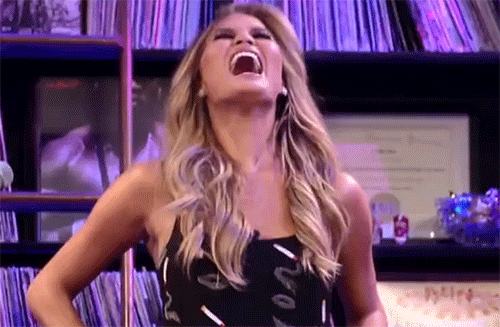 By Catherine Delves