UPDATE 11/5/16:
It's been a few weeks since Beyoncé's Lemonade was unveiled, and while it's had a huge influence over girl-power (obvs), the album has had an even bigger effect elsewhere: lemonade sales. Yes, really.
Natalie Sexton, CEO of US-based juice company Natalie's Orchid Island Juice Company, informed The Huffington Post that her company's sales have doubled since the album's release.  
"People are drinking lemonade and posting pictures with #Beyoncé," she said. "You can't drink lemonade these days without thinking of her."
Matt McLean of Uncle Matt's has also noted a rise in sales, saying: "Sales are increasing. We're up about 20 percent," he said. "I don't know if that's due to Beyoncé or the heat. Maybe it's Beyoncé. We'd send her some free lemonade – it's organic!"
Now that's what you call selling power.
25/4/16: Queen Beyoncé is back. 
Well, in truth, she never really left. But the music mogul caused internet hysteria when she dropped the Lemonade bomb over the weekend. 
Airing a HBO special in the form of a powerful art film, Beyoncé showcased some brand new music with a visual album. She then dropped her tunes on Tidal. And social media was filled with ALL of the emotions. 
Amongst the political statements and nods to the Black Lives Matter movement – which, understandably, received heartfelt applause amongst viewers – there seemed to be a lot of confusion surrounding Bey's relationship-themed words.

See: Did Kim Kardashian Just Try To Steal Beyoncé's Thunder?

Yup, her fans wasted no time in picking up on the fact that she referenced infidelity an awful lot of times. And in true Beyoncé-style sass, too. 
At one point, she demands 'Are you cheating on me?', and viewers eyes seemed to swivel towards hubby Jay Z. 
The mum-of-one also lead social media users to question whether there was trouble in paradise with the line, 'Today I regret the night I put that ring on'.
Another lyric, included in the track Don't Hurt Yourself, says, 'This is your final warning, you know I give you life, if you try this s*** again, you gon' lose your wife.'
Blimey. 
But the reference that seems to have grabbed the most attention comes with talk of 'Becky with the good hair'. The line soon went viral, with many drawing the conclusion that there could have been another woman in the mix.  
The Beyhive – otherwise known as Beyoncé's biggest fans – were quick to point the finger at fashion designer Rachel Roy, after she reportedly posted a snap to Instagram with the caption, 'Good hair don't care, but we will take good lighting, for selfies, or self truths, always. live in the light #nodramaqueens.'
She has now made her account private after recieving a tirade of abuse due to the allegations. Rachel later tweeted, 'I respect love, marriages, families and strength. What shouldn't be tolerated by anyone, no matter what, is bullying, of any kind.'
Lemonade was the talk of social media, with tweets including: 'Congrats Jay Z on your hundredth problem! Knew you could do it' and 'Beyoncé just made me hate my boyfriend and love him endlessly in the span of one hour.'
Another wrote, 'Jay Z gonna have to do a press conference after this. I just have too many questions #LEMONADE' [sic]. 
And, naturally, it wasn't long before memes started popping up, illustrating how Jay Z might have reacted when watching…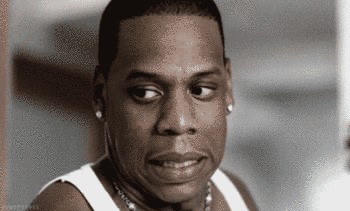 To be fair, Beyoncé's music has always touched on relatable relationship hurdles. 
But if there's one thing that is for sure, Bey knows how to whip up a frenzy.