What happens when Beyonce surpises you mid-interview? Chance The Rapper just found out...
Beyonce is one of those superstars who many fans would probably lose their minds over if they ever got the chance to meet her. We mean, we're talking Beyonce here.
And it turns out that rule applies if you're a celebrity, too, as everyone found out when Chance The Rapper was granted the gift of meeting the megastar at this year's MTV VMAs.
See:  MTV VMAs 2016: All The Red Carpet Pics…
The 23-year-old was backstage being interviewed when Bey decided to creep up on him and get herself in the mix by touching his arm and resting her head gently on his shoulder.
At first, Chance didn't seem too fazed… Until he realised exactly what had just happened.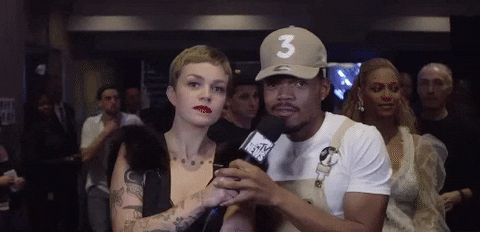 *Cue HYSTERIA*.
Flipping out over the fact that one of the biggest, most successful and totally fabulous recording artists of all time had just touched his arm, Chance reacted pretty much how anyone else in the same situation would, crying out that he'd just been blessed with the touch of Bey.
'Oh my God, that was 'Yonce,' he yelled, before running over to talk to the singer.
Read: The Identity Of Beyonce's 'Becky With The Good Hair' Is *Finally* Revealed…
Afterwards, he declared: 'This my life', before swearing. Yep, we're with you. Total life-affirming moment right there.
Beyonce also made her fans' night by bringing along daughter Blue Ivy to this year's MTV VMAs, with the mother/daughter duo going matchy matchy in similar shimmering metallic, tulle and feather frocks.
Oh, and she won a whopping six awards, so there was that, too.
Still the queen.