When celebs want to let their hair down, 'court' controversy and generally just behave a bit badly, they do it at The Brit Awards. Why? Hmm, it could be because The Oscars/GRAMMYs/BAFTAs seem just a bit more grown up… or it could simply be down the truck load of free booze on every table. Either way, it leads to some pretty embarassing moments that have us cringing through our hands, laughing because they're just so funny, awful or just the absolute worst.
Here are our favourite moments ever, what are yours?
When Harry Styles Was In The Toilet
Winning the Global Success Award is something you really don't want to miss. Especially not when it's presented to you by Rosie Huntington Whiteley. But that's exactly what Harry did, in 2014, and his bandmates had to go onstage without him to collect the gong. Liam had to ask the crowd, "has anyone seen the curly lad?" before Harry rushed up on stage, saying he'd been in the toilet. Mortifying.
That Time Karlie Kloss HATED Jimmy Carr
At 2015's awards the comedian made a not-so-funny joke about finding drugs in Madonna's dressing room… but them all being HRT. Cue an awkward silence from the audience and a perfect eye roll from Karlie.

READ MORE: The Most OMG Grammys Moments Ever

Kanye BLEEEEEEEEEEEEEPPPPSSS
What's that Kanye? We've absolutely no idea because all of your lyrics have had to be censored out. The rapper performed his new single All Day at 2015's awards but the song was quickly renamed Auto Mute by Twitter as the whole thing was practically blocked out due to its sweary nature.
Geri Showed Too Much
Back in 1997 when the Spice Girls still ruled the airwaves (can we go back to then, please?) Geri ran on stage to accept the band's Brit Award and suffered a, ahum, wardrobe malfunction on the way up there. We still think this is one of her most iconic outfits though, so all was not lost.
Russell Enraged Everyone
You'll never make everyone happy with your jokes, but Russell Brand managed to annoy A LOT of people when he presented the awards in 2007. And by a lot we mean 300 people taking so much offence to his jokes (including one about the Queen's lady bits, something no one wants to think about) that they wrote in to ITV to complain.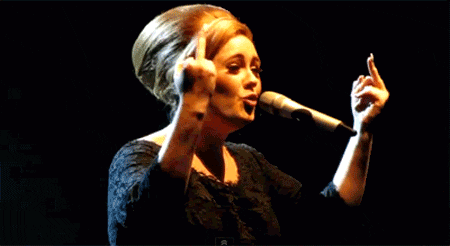 Adele Got Mad
After winning Best Album in 2012 Adele had a lot of people to thank… But she wasn't given the chance as host James Corden was asked to cut her off half way through. This was due to timing issues (largely down to Damon Albarn's rambling speech earlier) and made Adele mad, very mad indeed. She ended up flipping the bird at TV cameras, a gesture she later explained was "for the suits."
Ed's Girlfriend Got Jealous
A super star declaring her love for your boyfriend live on stage? Yeah we don't blame Ed Sheeran's girlfriend at the time, Athina Andrelos giving Taylor Swift stink eye when she said she loved him on stage in 2015.
The Artic Monkeys Try Too Hard
There's rock n roll… Then there's just CRIIIIINNGGEEE. The Artic Monkeys were certainly the latter when Alex Turner gave a speech when the band accepted the British Album Awards in 2014 – his long, rambling rant was labelled 'try hard' by Twitter and he was generally labelled a 'pretentious b*llend' by many.
Madonna Falls Over
And the most memorably awkward moment was of course Madonna's epic fall last year. Her Dolce and Gabanna cape didn't untie and the star took a really nasty tumble. But like the absolute trouper she is she simply got back up again. A moment we will forever be inspired by ever Saturday night we fall.