It's back! The fifth series of American Horror Story is here and it's bigger, better and bloodier than ever.
Made by the Hollywood producing dream team behind Glee – Ryan Murphy and Brad Falchuk –  each new series of the ever-popular show features a different theme, location and characters. What this means is that you don't need to have seen any previous series to get on board with this one! Yay!
Season 5 is themed 'addiction' and is set in a mysterious Art Deco Californian hotel, The Cortez. Aptly titled American Horror Story: The Hotel,  the first episode premiered last night in the US. Twitter had a mini meltdown with excitement and luckily this side of the pond we don't have too long to wait to see it either.
The show is coming to UK screens on the 20th October and here's everything you need to know…
Gaga shows off her amazing Countess makeup via Instagram
@LadaGaga
The queen of pop has been documenting her new life as a TV star religously via Instagram. We love her retro makeup look up for the part of the Countess that featurs a scarlet red lip and a classic flick of winged black eyeliner.
Lady Gaga has a starring role
Lady Gaga at the LA premiere of American Horror Story: The Hotel
The singer and fashion icon plays The Cortez Hotel's Countess Elizabeth – a blood-thirsty hotel owner with a penchant for couture fashion. Gaga has been sharing teasers of her amazing outfits and some sneaky behind-the-scenes snaps.
Gaga looks incredible as Countess Elizabeth
Gaga shares an on set pic via Instragram
Gaga fans will be pleased to know that Murphy has lined her up for season 6 too. The co-producer tweeted "Lady Gaga is so brilliant in AHS Season 5 that yesterday I officially asked her to join Season 6. Say yes @ladygaga!"
Jessica Lange is out
Season 5 will be the first not to star Jessica Lange. The legendary actress has played a number of different characters over the past four seasons and has racked up an Emmy, a Golden Globe and a Screen Actors Guild Award for her performances in the show. Will the series be the same without moments like this?
It's not the last we've seen of her though with reports that she will be returning in season 6. Phew.
But lots of our favourites still appear
Returning for a fifth season include the likes of Kathy Bates, Evan Peters, Finn Wittrock, Angela Bassett, Chloe Sevigny, Emma Roberts and many, many more.
Chloe Devigny looked stunning at the premiere
And there's a tonne of new amazing cast members
AHS is known for mixing up it's cast list and they've pulled out all the stops for season 5. The new line up includes New Girl's Max Greenfield (a.k.a Schmidt)…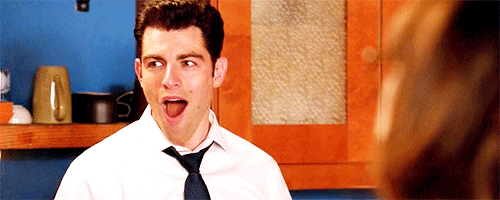 Hottie Matt Bomer (remember Magic Mike?)…
Matt Bomer at the LA premiere
And Cheyenne Jackson, who has previously appeared on Murphy's Glee…
Cheyenne Jackson looked dapper at the LA premiere
By Elizabeth Bennett