Adele has confessed that she's been banned from eating curry on tour. Yes, BANNED.
What?! Is this some health-kick encouraged by her management? Or perhaps the singer is simply trying to avoid fat-loaded takeaways as a part of her new healthy outlook?
Well, actually, no, it's none of the above. In fact, she's got to steer clear of the spicy stuff in order to protect her voice. Doh.
Adele has reportedly been ordered to cut out curries from her diet…
'I'm unable to sample Rusholme's curry mile tonight as I've been told I've got to protect my vocal chords', Adele reportedly tole The Sun ahead of performing in Manchester. 'I'm gutted.' We feel for you, girl.
If you're a fan of Adele, you've probably noticed that since returning to the music scene, she's been sporting a whole new look.
The British singer debuted a brand new bob at the X Factor live shows last year, but the Hello songstress has also been showcasing a new body. 

Read: Wine Before Bed Makes You Lose Weight, Says Science…

Adele back in 2009 – cute hair bow, lady!
And now, Adele has revealed the reason behind her weight loss, and it's slightly unconventional.
Speaking to The Sun about getting into shape, the 27-year-old revealed that she'd cut one specific thing out of her diet: 'I used to drink 10 cups a day with two sugars in each so I was on 20 sugars a day.' 
That's a lot of tea. And a lot of sugar. Very British.
Adele says she cut sugar from her diet to shed the pounds…
She went on to explain that cutting her intake has also given her a boost of energy, saying, 'Now I don't drink it and I have more energy than ever.' 
Jennifer Irvine – founder of Pure Package, who supplies Adele's meals – has also listed what a daily meal plan looks like for the star.
'She's eating a really clean diet, with lots of fruit and vegetables, plus lean protein and complex carbohydrates', he said.


Read: Khloe Kardashian's Weight Loss Story…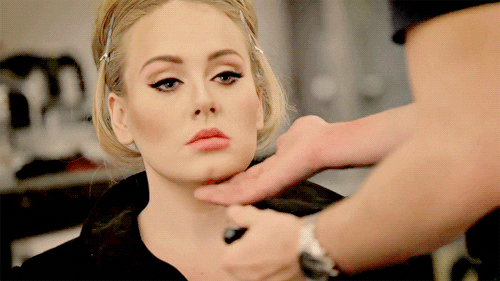 As part of her healthier lifestyle, Adele has also kicked her smoking habit. 
According to The Mirror, the hit maker quit out of fear of getting sick.
She revealed: 'If I'd carried on smoking I'd probably have died from a smoking-related illness and I think that's really bad.'
Adele is also rocking a perfectly polished beauty look these days…

See: Adele's Best Quotes

Forever keeping it real, the chart topper has also revealed to Rolling Stone that we won't be seeing her turn into a fitness fanatic anytime soon, despite her healthy attitude.
She told the publication: '[It's] to get in shape for myself, but not to be a size zero or anything like that.'
Adele admits she's never been a slave to the gym…
She went on, 'I'm not, like, skipping to the f****** gym. I don't enjoy it. And if I don't tour, you'll catch me back down at the Chinese!'
So, what exactly is she doing down the gym? Well, reports claim that shes been hitting up private KX Gym in Chelsea to work on strength and conditioning, as well as nailing the cable machines.
It's clearly working. She's looking totally ah-mazing.