We've lost countless hours of alcohol-infused sleep thinking about whether those two in the morning texts will lead to any consequences. They usually always do. Drunk texts are a rite of passage for everyone. Think of them as the universe's way of saying, "Hey, you were looking for an excuse to share every feeling you have. Go for it, kid". But sometimes the truth hurts and an 'unsend' function would go a long way.
Because, let's face it, the act of drunk texting is a selfish endeavour. You're not looking for a response, you just decided in that moment that something needed to be said.
In a perfect world you would be able to send the message, feel the catharsis then immediately delete the message removing all evidence that you confessed any form of undying love.
Job's a good-un.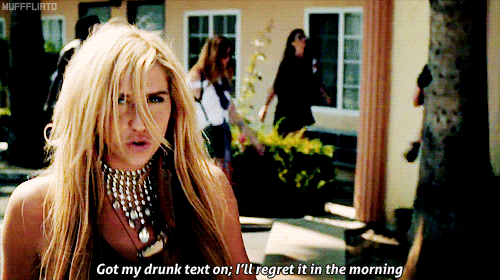 And this fantasy could soon be a reality with news that WhatsApp are reportedly working on an unsend button that would serve for all those times you send a message and immediately regret it.
As Metro reports, a WhatsApp news account, WABetaInfor, tweeted a video that alludes to the hidden feature that's currently in testing. WhatsApp are calling it a 'revoke' button but we like 'unsend' better.
We should say that this is still in development if these rumours aren't fake in the first place. The video looks convincing but even if WhatsApp aren't developing this feature – sooner or later someone will. Enough of us have drunk texted to know that businesses need to supply the demand.
The way it'll work, in theory, is that once you send a message, there will be a delay before it's officially delivered. This is your window to think through what you've just done and remove any evidence.
As well as the revoke message button, WABetaInfo's inside information also suggests the app might soon introduce an 'edit message' feature. Spellcheck, be damned.