November is always a stressful and busy month. It's different busy to December, however. The last four weeks have probably had you panicking about how much you need to prepare for Christmas and how much work you need to do before your office shuts down for two weeks. Come mid-December, you're going to have a lot more free time to just flop and steam through your Netflix watch list.
Because, in case you hadn't noticed, there's been loads of good stuff coming out on UK Netflix over the last few weeks. Gilmore Girls: A Year in the Life and The Crown have been the talk of the internet for a while and if you don't have access to Westworld, now's the time to catch up.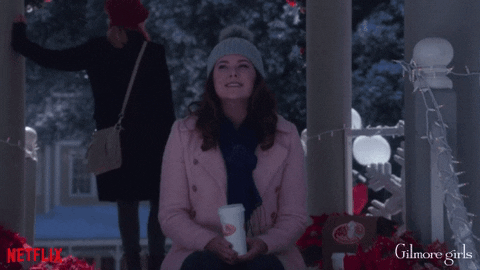 But hang on a second. There's even more stuff coming to UK Netflix over the next week. We've picked our top three from the selection but we'll include a full-list at the bottom of this article.
Christmas is about the only time of the year you get to put some serious time into clearing your Netflix out so make the most of it!
Barry
Rising star Devon Terrell stars in this biopic about Barack Obama's life at New York City's Columbia University in 1981. Perfect for feeling slightly worse about the great Trump depression.
David Blaine: Street Magic
Real life witchcraft with David Blaine, more like. Taking himself out of the arenas, Blaine hits up the street to freak out civilians and celebrities alike. We should warn you, if you never wanted to see a man regurgitate a frog from his stomach, this probably isn't for you.
Eddie The Eagle
Christmas wouldn't be complete without a family-friendly uplifting film to watch with a hangover. Eddie The Eagle might just be that film for you. It's not going to win any awards but it's a great laugh!
Here's the full list of shows and films coming to UK Netflix this December:
1st December
10 Year Plan
1000 Rupee Note
Across Grace Alley
Anthony Bourdain: A Cook's Tour: Season 1 & 2
Art Basel: A Portrait
At All Costs
Avicii
Back to 1989: Season 1
Being Canadian
Beyond Bollywood
Born to Dance
Bromance: Season 1
Chelsea: Season 1
Chill with Bob Ross: Collection
Compete to Eat: Season 1
David Blaine: Street Magic
Dear Albania
The Deep: Season 1
Designated Survivor: Season 1
The Devil You Know: Season 3 and 4
Dreamland
Drug Wars: Season 1
Emergency: Season 1
Episodes: Season 4
Exotic Invaders: Pythons of the Everglades
Fannie's Last Supper
Finding Traction
For the Love of Spock
The Forest
Growing Cities
Hitler – A Career
Inspector Gadget: Season 1
jPod: Season 1
King Georges
Loreena McKennitt: Nights from the Alhambra
The Mechanic
Mega Builders: Season 5 & 6
A Moody Christmas: Season 1
Most Valuable Players
My Little Lover: Season 1
My Super Ex-Girlfriend
Nat Turner: A Troublesome Property
Natural Selection
Nazi Gold in Argentina
Newtown
Norm of the North
One Night in Istanbul
Perfect Storm: Season 1
The Pit
Rainbow Time
Refresh Man: Season 1
Return to the USS Atlanta: Defender of Guadalcanal
Sairat
Searching for Augusta: The Forgotten Angel of Bastogne
See No Evil: Season 2
Sports on Fire: Season 1
Stonewall
The Syndicate: Season 3
Taking Stock
Tales of Masked Men: A Journey through Lucha Libre
Tellur Aliens
Too Late
Tornado Hunters: Season 1
Touched With Fire
Uncle Nick
The Vampire Diaries: Season 7
Very Bad Men: Season 3
A Very Pink Christmas
Vinnie Jones: World's Toughest Cops: Season 1
Wanda and the Alien: Season 1
The Way Back
West Coast Customs: Season 1
White Girl
Wildflower
World Peace and Other 4th-Grade Achievements
Worst Thing I Ever Did: Season 1
Zero Point
4th December
Fifty Shades of Black
Into the Woods
5th December
The Waiting (The Good Neighbour)
6th December
Reggie Watts: Spatial
7th December
Detectorists: Season 2
Shooter: Season 1
8th December
Designated Survivor: Season 1
The Cuba Libre Story: Season 1
9th December
Break Up Club
Captive: Season 1
Fuller House: Season 2
Luna Petunia: Season 1
White Rabbit Project
10th December
Ender's Game
May We Chat
Monkey King: Hero Is Back
11th December
Anomalisa
Asperger's Are Us
Dirk Gently's Holistic Detective Agency
Full Out
12th December
Bone Tomahawk
Marias
Tale of Tales
13th December
Killswitch
15th December
Amdavad Ma Famous
Bedazzled
Designated Survivor: Season 1
Honeymoon
Joe and Caspar Hit the Road
Learning to Drive
Minimalism: A Documentary About the Important Things
Race
Rogue Agent
This is the Life
16th December
Barry
Death Wish 5: The Face of Death
No Second Chance: Season 1
The Adventures of Puss in Boots: Season 4
Call Me Francis
18th December
Call My Agent!: Season 1
The Great Train Robbery
Brooklyn Nine-Nine: Season 3
Miss Stevens
Santa Pac's Merry Berry Day
20th December
The Daughter
Disorder
Gabriel lglesias: I'm Sorry For What I Said When I Was Hungry
A Most Violent Year
21th December
About Last Night
Baby Boy
Deck the Halls
Final Fantasy: The Spirits Within
Fools Rush In
The New Adventures of Pippi Longstocking
On the Waterfront
Shooter: Season 1
22 December
Lo and Behold: Reveries of the Connected World
The Hunger Games: Catching Fire
23rd December
Trollhunters
27th December
Chasing Cameron