Imagine getting paid for eating! If it helps you get through the day we suppose you can think about your hour lunch break as getting 'paid to eat' but we mean really getting paid to eat. Like, that's your job: just eating.
'Official Eating Officer' isn't just a job about eating food. It's a job about going to restaurants and eating nice food. Unfortunately this isn't a job you can apply for right now because 25-year-old Sophie Hardy has just been hired to do it.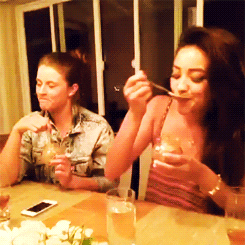 The Durham resident has been put on the Weight Watchers payroll as the Officer with an objective of testing out the nation's favourite restaurants. It's a research role really; one that involves a lot of eating.
As Mashable report, the role is to realistically test that a healthy approach to managing your weight without having to totally give up a social life.
This job was birthed from a recent study that revealed that 71% of UK citizens feel like fad dieting makes socialising difficult considering that most of our social practices involve food and/or unhealthy drinks.
Specifically people aged between 25 and 34 struggle the most when it comes to maintaining a healthy lifestyle and a social life.
Hardy was chosen from more than 500 candidates to eat out twice a week and find restaurants that a worth the Weight Watchers stamp of approval.
Speaking to Mashable, Hardy said of her new role: "Being chosen to eat out twice week in restaurants across the UK is an absolute dream job so I am delighted to be appointed as the first ever Official Eating Officer".
This surely can't be a full-time job! Either way, it's good to see that there are systems out there that facilitate dieting that doesn't make you miserable.