Even in the UK we're living in denial. Denying the fact that come January, Cool-Dad Supreme Barack Obama and his kickass family will be leaving The White House in the tiny, tiny, tiny hands of the President-Elect Donald Trump. We're not happy about this, in case you were wondering.
Michelle, Barack and the family will be packing up their belongings, getting the dogs in the car and moving into the exclusive Kalorama neighbourhood in Washington DC.
At least he'll still be local. We still need our monthly viral Obama video where he does something relatable and nice.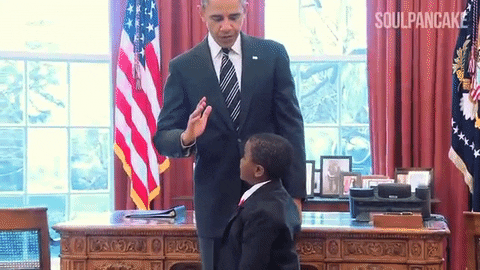 But how will The Obamas cope with moving out of the best building in the United States? We think they'll be okay and so will you once you see their relocation within DC.
The Obamas are staying in the capital until their daughter Malia finishes high school. From there, where they move is anyone's guess.
Barack told CNN: "Hawaii's home for me but I spent almost 30 years in Chicago. It's where I met Michelle, it's where she grew up. It's where our daughters were born."
And the new crib is something special. Nine bedrooms, eight bathrooms and a massive back garden.
Just have a scroll at this insanely beautiful house!
Marie Claire were the first to point out that beautiful fireplace. The best thing about moving out of The White House is having these simple features that a presidential building couldn't have because of national security or whatever.
The Obamas are going to have to get used to running their own kitchen again. That said, after eight years, it must be nice to have control over your life once again.
We suppose it's comforting knowing that even if Trump lays waste to the world, the Obamas get to watch from the comfort of a house they deserve.