Now that Christmas is all 'wrapped' up until next year, it's time for the next wave of consumerism sensationalism: Easter! Already the marketing campaigns for the Cadbury's Creme Egg have begun and got us thinking whether the little chocolate ovals are a seasonable treat or whether they are Easter specific. It feels like they never leave… or is that just us?
Either way, Cadbury have decided to mix up the recipe for the classic Creme Egg to make a treat so delicious it'll make the sugary filling we know and love go the way of the dodo.
Introducing the Oreo Cadbury Creme Egg (rapturous applause).
First reported by Refinery29, this Canadian exclusive egg had us browsing the web for any flight deals as soon as we heard. We realised it'd be easier to import some of these treats into the UK but that's besides the point.
From what we can see, the cream in the Oreo-eggs looks like the cream between the Oreo biscuits replacing the gooey filling of the classic Creme egg. Obviously you'd need a more rigid filling to suspend those little chunks of Oreo biscuit within.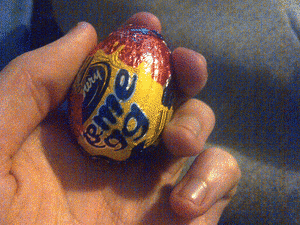 And the reviews are in! The Instagram user responsible to revealing this glory to the non-Canadian world replied to our textual salivations saying, "These were an easy and convincing 10/10, even besting the new Reese's Eggs I posted about the other day."
Out of curiosity we looked at the Reese's Eggs and we regret doing it so close to lunchtime…
To think that we woke up this morning totally unaware that there was more than one flavour of Creme Egg. JunkBanter's Instagram has enlightened us to the most delicious and disgusting junk food twists that we need in our lives.
Chocolate Mocha Pop-Tarts, Marshmallow Fries, Red Velvet Kit-Kat – we want it all!