As far as Christmas songs go, they don't come much more iconic than Mariah Carey's 'All I Want For Christmas Is You'. It's the one song we ALL get up and sing-a-long to at the office party (blokes included) and it's sparked many, many a cover. From the little American girl in Love Actually to Michael Bublé's rendition, it's not wonder it's long-held the title as the most-played Christmas song on an annual basis. That was, until now…
That's right, after a 20-year reign at the top of the Christmas jingle charts, Mariah has officially been dethroned by another festive anthem, and we were super-surprised to find out who the new champion was.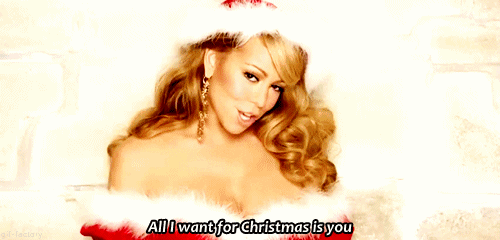 All I Want for Christmas Is You," which has stolen the number one spot every year since its initial release in 1994 has been succeeded by The Shin's cover of Paul McCartney's 'Wonderful Christmastime', according to PlayNetwork. Say WHAT?
Here's PlayNetwork's official run-down of 2015's most-played Christmas tunes:
1) The Shins "Wonderful Christmastime" 
2) Mariah Carey "All I Want For Christmas Is You" 
3) Christina Aguilera "Christmas Time" 
4) Waitresses "Christmas Wrapping" 
5) Jack Johnson "Someday At Christmas" 
6) Kelly Clarkson "Underneath The Tree" 
7) Michael Buble "A Holly Jolly Christmas" 
8) Bing Crosby "White Christmas" 
9) Train "What Christmas Means To Me" 
10) Ella Fitzgerald "Have Yourself A Merry Little Christmas" 
11) Coldplay "Christmas Lights" 
12) Jose Feliciano "Feliz Navidad" 
13) Sharon Jones & The Dap Kings "White Christmas" 
14) Vince Guaraldi Trio "Christmas Time Is Here" 
15) Sam Smith "Have Yourself A Merry Little Christmas" 
16) Pentatonix "The Christmas Song (Chestnuts Roasting On An Open Fire)" 
17) Paul McCartney "Wonderful Christmastime" 
18) She & Him "Baby, It's Cold Outside" 
19) Elvis Presley "Blue Christmas" 
20) Darlene Love "Christmas (Baby Please Come Home)"