Oh, Jennifer Lawrence. You never fail to make us laugh, do you?
The 25-year-old had a slightly embarrassing accident at the premiere of The Hunger Games: Mockingjay Part 2 in Madrid last night – but she totally styled it out.
Jennifer Lawrence looked stunning at the premiere
Jen ended up taking a tumble on the red carpet (yep, again) after her Ralph Lauren gown got caught in her heel. EEK.

See: Jennifer Lawrence: 'I'm Ageing Like A President'

Jennifer Lawrence stumbles…
Video taken from the event appears to show her struggling up the steps of the cinema while trying to sort out her wardrobe malfunction.
A group of helpers initially managed to break her fall. However, she stumbled again and fell to the floor. Uh-oh.

See: 11 Reasons Why Jennifer Lawrence Is The Bomb

…and down she goes
But she didn't let the incident get her down. Well, we guess she IS pretty used to falling in front of the cameras… remember the Oscars?!
In 2013, she infamously tripped over her Dior Haute Couture gown as she made her way onto the stage to accept her Best Actress award for Silver Linings Playbook.
Then last year, she made a boo-boo after getting caught up in her strapless orange gown while trying to exit her limo with then-boyfriend Nicholas Hoult.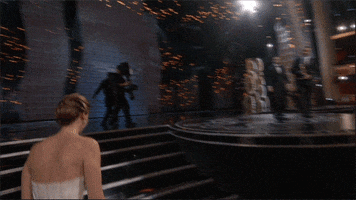 J-Law can also find comfort in the fact that she looked completely ah-mazing yesterday.
Her black floor-sweeper was a total winner, featuring a plunging neckline, a slinky skirt and a dramatic lace train.
Jennifer Lawrence posed on the red carpet with Liam Hemsworth and Josh Hutcherson
She'd paired the design with a tousled down 'do and a slick of coral lipstick. Her only accessories were simple drop earrings, ensuring her gothic dress did all the talking.
Jen had arrived on the red carpet with her co-stars Liam Hemsworth and Josh Hutcherson, who were both dapper in tailored suits.
Jennifer Lawrence's beauty look was on point
Even before she made her way into the venue, it was clear that Jen may have a bit of trouble with her outfit. Liam was seen assisting her as she pulled her dress away from her shoe.
Jennifer Lawrence was clearly having problems with her dress-shoe combo
One day you'll learn, Jen!
Watch Jennifer's latest red carpet fall below…