The wait is finally over. Gigi Hadid's debut as a music video star is here, and it's every bit as hair flicking-ly great as you might imagine. Yup, Calvin recruited Taylor Swift's BFF to star in the video for How Deep Is Your Love, and it involves some impressive pouting, posing and a few boats, too. Obviously. 

SEE: Taylor Swift and Calvin Harris: Their Romance In Pictures

The video sees Gigi waking up on a steel table that appears to be somewhere at the back of a warehouse rave (naturally), before she heads towards the party looking confused, and ultimately ends up on a yacht. There are dolphins, dancers and even a brief spot of gardening. In short, it's everything we want from a music video. 

READ: Gigi Hadid On Posing Naked For Tom Ford

The track itself, which features Disciples, is a bonafide summer banger- expect to hear it everywhere you go in the coming weeks. But while Gigi does a great job, the real star of the video might just be her hair. It's just everything. Seriously, we can't cope.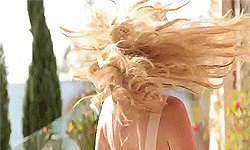 Gigi's been enjoying huge successes recently, having landed the cover of W's September issue, as well as starring in multiple new season campaigns. But she revealed that she had to overcome criticism at the start of her career, as some modelling agencies told her to lose weight. Erm, what? Speaking to Daily Mail Australia, Gigi said: "A lot of them were like, 'You have to lose a lot of weight.' I would cry and night and my mom would be like, 'We're going to find the right people.'" Bet those agencies are kicking themselves now. 

SEE: The Best Fashion Campaigns For AW15

She also spoke of the industry's surprise when she started landing high fashion jobs and catwalk appearances: "People were like, 'Oh so we can have a girl with thighs and a butt in a Tom Ford campaign, cool.'" What a babe. Gigi continued: "I just want to be a healthy role model and I haven't swayed from that at all." 
Gigi is fast becoming our favourite super.