We can't all be Kirsty Allsop when it comes to Christmas wrapping and those of us who left the crafts behind at primary school sometimes struggle when it comes to the art of festive wrapping while others make it look like a breeze.
But which kind of wrapper are you and just what does it say about your personality?
READ: The 13 Stages Of Every Work Christmas Party
1. You leave everything to the last minute.
Meaning you have about six minutes to wrap all of your presents before it's time to leave for the Christmas Eve pub trip. The stress sets in and it all ends up looking like you let your five-year-old cousin do the job for you. In fact, that's a good excuse, use in future.
Image: Instagram @pinkdollydimple
2. You're a perfectionist.
You're the kind of person that wraps a present so beautifully that the receiver doesn't even want to open it. All the gifts compliment one another, every single one has a handmade present tag attached and – of course – the world's most perfectly tied bow.
Image: Rex
3. You lack an attention to detail.
That's why sometimes (okay every time) you end up cutting the paper a little bit too short and revealing what's underneath.
Image: Instagram @morgan_mann
READ: 15 Signs You Are Already In The Christmas Spirit
4. You have a short concentration span.
And every year, without fail, end up wrapping up the cat.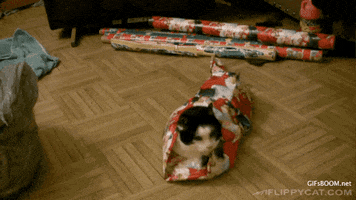 5. You're a sucker for deals.
You always end up buying 14 packets of bows and ribbons to make the most overdecorated of presents. It all ends up looking a little OTT.
Image: Rex
READ: The Best Christmas TV We Can't Wait To Watch
6. You're very forgetful.
And never remember to buy wrapping paper, meaning you have to use leftover birthday paper instead. Hey, it's better than nothing right?
Image: Instagram @suz802