As Chrissy Teigen celebrates her birthday, we remember the many, many reasons we love her.
1. The time she posted a photo of her stretch marks to the entire world for no reason at all making girls all over the world feel better about themselves.
2. The (two) times she suffered major red carpet malfunctions and dealt with them like a pro.
3. That time she made fun of becoming a Golden Globes meme.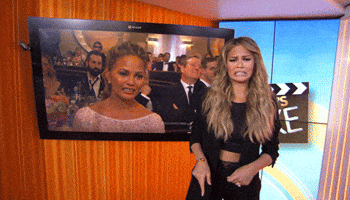 4. That time she hit rock bottom.
5. That time she totally owned the pregnancy crop top.
6. That time she totally embraced her new pregnancy body. "Hello new thighs"
7. That time she dressed her dog up like this.
8. That time she went to the supermarket like this and then mocked herself on Instagram.
9. That time she took on the food shamers who criticised her for eating this cereal.
10. That time she spent the entire day in bed eating fried chicken with her husband and documented it all on Twitter.
11. That time she bravely shared her struggles to conceieve with the world.
12. That time she left some swanky showbiz party to binge eat spaghetti in bed.
13. That time she created this collage.
Basically, we love you Chrissy! Happy Birthday!