If you haven't come across the social media sensation that is Carpool Karaoke by now, then be prepared people; this WILL be your new favourite thing. And yes, we can say that with every authority in the world because trust us, your minds are about to be blown….
Leave it up to funnyman James Corden to come up with a brilliant concept to give his recent Late Late Show appointment a certain (and very shareable) hook, which basically involves him driving around LA with an array of super famous individuals.
The latest celeb in the hot seat is none other than Bruno Mars. Yep, the clip sees the four-time Grammy award winner and fun-loving host drive around the streets of LA belting out the likes of '24k magic' and 'Uptown Funk', but as well as some erm, interesting, singing renditions, the pair discuss everything from Spanx to dressing room demands. And you won't believe how Bruno used to pay his rent.
Find out here…
Before Bruno, it was Britney who took on The Late Late Show to promote her new album, and aside from singing, things got pretty personally as Brit spoke openly about kids, romance and, er,  bondage…

SEE: 9 Funny Instagram Accounts You Need To Follow Now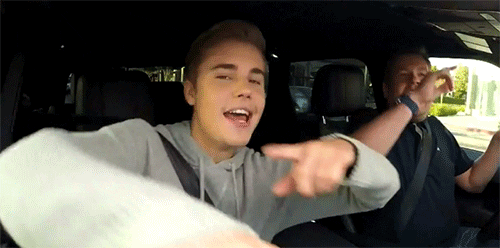 Not convinced? Well, lets just drop a few names here: Justin Bieber. Mariah Carey. Rod flippin' Stewart? What do they all have in common? Yep, you've guessed it, they've all participated in a bit of Carpool Karaoke with the Corden. And it doesn't stop there.
Amazing…

SEE: The Funniest Celebrity Instagrams Of The Week

James' latest passenger is only the absolute legend that is Mr Stevie Superstition Wonder! We know. We got pretty excited too. And so, it seems, did James Corden, who was actually moved to tears when the 25 time Grammy Award winner called Corden's wife Julia to belt out his smoochy hit I Just Called To Say I Love You, cheekily slipping in James' name instead of the 'I'. Stevie Wonder – what a charmer.
We never had any doubt in our minds that James was going to nail the Late Late Show gig, but Carpool Karaoke is a stroke of pure comedic genius. Bravo Mr Corden. We can't wait for next week.