Taylor Swift looked sensational on the Grammys 2016 red carpet last night in her hot pink and orange Versace combo.
Of course, everyone was talking about her striking new bob haircut. But there was also a question on everyone's lips – where was Calvin Harris?


See: *All* The Red Carpet Dresses From The Grammys…


Taylor Swift looked ah-mazing in her jewel coloured Versace look
We all expected to see the famous couple (maybe) making their first ever red carpet appearance together, seeing as it was the biggest night of the year in music, but alas, our wish was not granted.
Taylor took BFF Selena as her hot date for the night instead – who needs boys?!
Instead, Taylor rocked the red carpet with another very famous date for the night – best pal Selena Gomez.
Sharing a snap of her and her BFF rocking the Grammys on Instagram, the 26-year-old Blank Space singer wrote: 'No big deal just rolled up with the hottest date. @selenagomez #grammys.' Naww. Fave girlmance.
Taylor and Selena having a right old giggle on the Grammys 2016 red carpet…
So, where was her beau? Did they have a fight? Are things no longer hot hot hot for pop's most attractive couple?
Taylor was also seen crying on an audience cam after her Grammys, with Swifty appearing to wipe away tears as she sat next to Selena (watch it here). Poor little lamb!
Taylor was seen wiping away a tear on an audience cam after her performance
But don't worry. We doubt it was about Calvin (people are saying it's actually because she missed a note), as all is said to be well and rosy in camp Talvin.


Read: Is Taylor Why Calvin Set His Instagram To Private?


Taylor performed on stage that night in front of the star-studded audience
'He is working and in the studio,' a source told E News about why her beau was a no-show. 'Things are great between both of them. Taylor had plans on going with Selena for some time.'
Phew! And who could blame her? Selena looked incredible in a navy cut-out sequin Calvin Klein frock, and the pair really couldn't have looked any smitten on the night.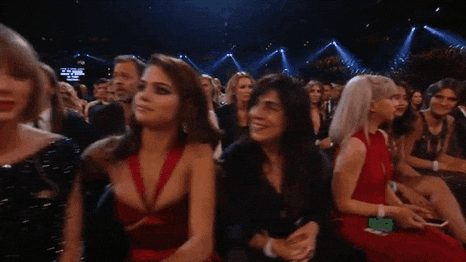 From holding up each other's dresses to cuddling in the audience together, Swifty and Selena made having your BFF as your date for the Grammys look like the most fun ever.  
'Basically I wanted something that was simple and felt like what I would do if I was going on a date and this is what I would do and my date is Taylor Swift,' Gomez told E News about her date for the night.
Here's to more girls' nights at the Grammys!
Calvin took pal Rita Ora as his date to the 2014 Grammys