Ariana Grande did an epic job of showing how to style out the most awkward awards 'do situation of all time last night.
You know when you're telling a joke and you get to the punchline, and you leave a little bit of silence to lap up the laughter?


Read: Why *Did* Adele's Grammys Performance Sound So Bad?


Yeh, well that's what Ariana did last night on stage at the Grammys, whilst she was introducing The Weeknd's performance of Earned It. Except… No laughter ever came. Awks.
The poor 22-year-old walked out ready for laughs after pre-preparing an epic pun about The Weeknd.
'How did this next performer land his seven nominations tonight, including Album of the Year and Song of the Year,' Grande asked the crowd.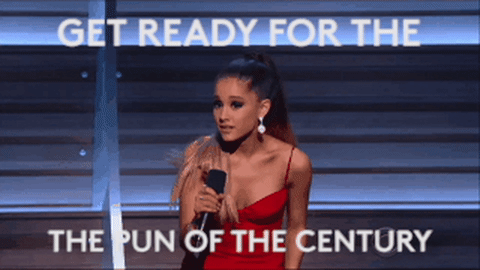 'Well, ladies and gentlemen, get ready for the pun of the century… He earned it.'
*Cue silence*.
Eek. At least the Focus singer knew how cheesy her joke was, as she then proceeded to sing a little bit of The Weeknd's Earned It to make up for the awks situation.
The look on her face was still pretty painful after the whole thing finished, though. Ah well, at least she finished with a giggle!


Read: Why Was Taylor Swift Crying At The Grammys?


Grande was doing her best Jessica Rabbit impression for this year's ceremony, rocking up in a Romona Keveža red silk crepe evening gown with a corset bodice and fluted skirt.
And her signature slicked back high ponytail was firmly in place, along with a smokey eye and a nude lip. Gorgeous.
Despite the presenting faux pas, we still love you, Grande.