Theres no doubt about it (see what we did there), Gwen Stefani has been like a constant source of rock-goddess glamour in our lives since hmm? Since we were old enough to buy Tragic Kingdom…on cassette.
From the polka-dot dressed days of Don't Speak right up to her recent status as queen of the yummy-mummies, Gwen Stefani's legacy as a bona fide style icon is as rock solid as those abs of hers. Come on. There hasn't been one look over the years that she HASN'T nailed.
And because today is her 46th birthday (we know, madness), we've decided to celebrate by compiling a list of all our favourite Gwen Stefani fashion moments. As self-confessed 'Gwennabies' (yes, that was a thing back in the '90s) we don't need any excuse to praise the threads of this teenage style icon….even though, we probably tried to nail of them, and quite often failed miserably.
Happy birthday Gwen. You still rock our world.
1. The '90s Bhindi
If there was one trend in the '90s that Gwen pioneered, it was the bhindi. And we went mad for them. Never mind that they've undergone a recent festival revival, these babies were classified Stefani territory twenty years ago. In our minds, they still are.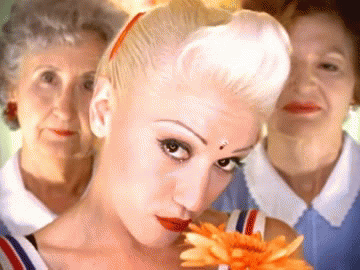 2. The Rope Hair
Back before she was pure platinum, our Gwen liked to experiment with different hairdos. This one she busted out for the MCA/Universal Records Grammy Party in '98 was kind of odd…but still totally amazing.
Gwen designed this ensemble herself
3. The Rock Steady Years
Gwen celebrated the turn of the century by packing some serious style game. Knuckle dusters, cropped string vests, fingerless gloves – this Hella' Good gal ticked every (alternative) noughties trend box without even trying.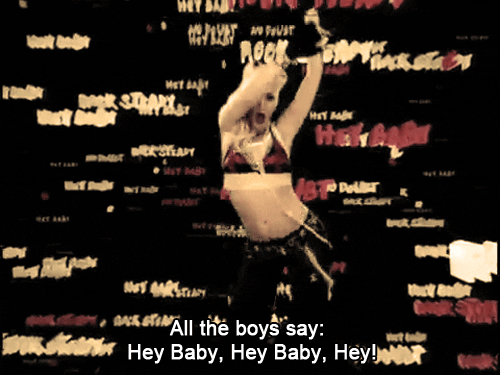 SEE: 9 Things Drew Barrymore Taught Us About Style

4. The Blue Fluffy Bra
We look back on this outfit with fondness. Sure, it's a bit bonkers, but even though Gwen looks like some blue-haired cosmic pixie – she still looks totally rad.
Gwen looking cool in blue
5. With Eve
Let Me Blow Ya Mind was a top uni tune which let us devoted Gwennabies show some serious sass on the dancefloor. Plus we all rushed out, purchased satin bomber jackets and made a vague attempt at wearing a bra (on show) to our local student union quiz night.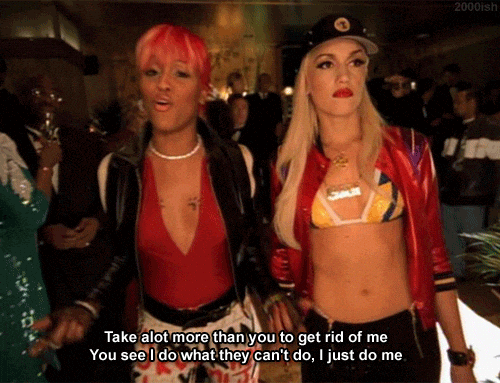 6. Harajuku Girls
Gwen and her merry band of Harajuku Girls made some serious fash impact during the mid-noughties. With their elaborate corsetry, matchy sailor uniforms and geisha-esque chic, these ladies brought all the style game.
Gwen swapped three sweaty band boys for three very pretty Harajuku girls….
7. B.A.N.A.N.A.S
Gwen in a tassled, one-shouldered cheerleader costume. Pfft. What more can we say?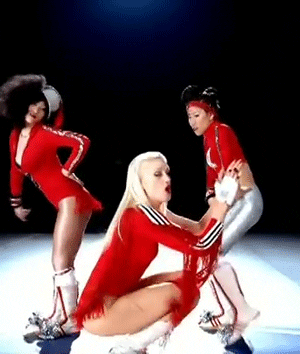 8. The Aviator
Did you know that our Gwen is also a bit of a film star? She made a brief cameo as Hollywood actress Jean Harlow in 2004 flick The Aviator…alongside Leonardo DiCaprio. Yeah. That happened.
Gwen looks incredible in The Aviator
9. Excuse Me Mr
Gwen went a little Tim Burton-style goth girl in the video for No Doubt's 1995 hit Excuse Me Mr. Those stripey arm warmers became stuff of Gwennabie legend.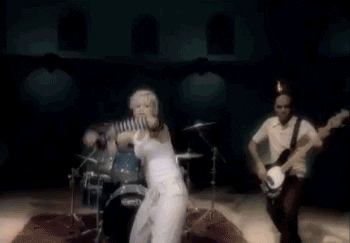 10. Pink For Platinum
Gwen swapped the trademark platinum locks for shocking pink bangs back in '99. She also sported a rather fine set of train track teeth braces for a short time. And (guess what we're going to say), she still looked magnificent.
Gwen rocked the pink
11. You And Me….
Oh Gwen. The start of it all. We had to end things with the song that changed everything, and the polka dot dress we all searched high and low for. Twenty years on and Don't Speak is still our school disco classic, and twenty years on Gwen Stefani is our utlimate style icon.
Happy Birthday Gwen!