If you're a fan of Zoella's beauty range, we have some very upsetting news for you.
The 26-year-old has revealed that she's discontinuing her Tutti Fruity collection, telling a Twitter fan: 'Tuity Fruity will be replaced! x.'
Waaah :(. People are understandably pretty gutted about this, with comments including: 'It's my favourite one :(,' and: 'Nooo it's my fave.'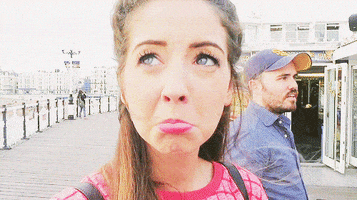 See: This Rumour About Zoella Is Really Pretty Disturbing

But as Zoella pointed out, it's not like her products will be disappearing from the shelves for good.
And if you're a particular lover of Tutti Fruity, one item will be kept in production. She informed another follower: 'I believe the mist is staying! Just not the entire range :).'
Zoella's released two beauty lines so far
Tutti Fruity was Zoella's second line, being released after the huge success of her self-titled debut range. 
The first collection was so popular that Superdrug claimed it broke sales records, becoming their fastest-selling beauty range. When Tutti Fruity followed, it was just as popular.
But while Tutti Fruity was an instant sell-out, Zoella's explained why they're leaving it behind. She says on her page: 'We need to make room for new collections :).'
Zoella Tweeted about her Tutti Fruity line being discontinued
So… is Zoella preparing for a new drop? Yep, it seems so!
In a recent vlog, Zoella – real name Zoe Sugg – had an exciting secret delivery, which we're pretty sure will have been the first batch of new beauty prods.
Of course, fans have lots of questions about the release. When one asked: 'Which scent is your new products most like?' she replied: 'Completely different!'
Zoella will soon be releasing a new beauty collection

See: Alfie Deyes Sparks Rumours Of A Proposal To Zoella

She's also teased: 'The packaging is literally BEAUTIFUL,' and revealed that her friends are big fans, Tweeting: 'I love them all so much, but @MarkFerris2O16 said it was his favourite yet!!'
So how long has Zoella been planning this big surprise? Well, quite a while, it seems.
Zoella's pals love her upcoming beauty range
When questioned over how long it'd been in the works, she revealed: 'A year already!! haha x.'
Wowzers. Exciting stuff!