If there's one actress whose skin secrets we'd like to steal, it's Jennifer Aniston's.
From her retro days playing Rachel from Friends to now, she's barely aged a day. And her impossibly flawless skin has alot to do with it.


Read: 8 Times Rachel Green Told It Like It Is…


Luckily for us, the 47-year-old has now spilled her top tips for gorgeous skin, and funnily enough, one of her best is one she learnt on the set of Friends… 
'I discovered the oxygen facial when I was doing Friends,' Jennifer told Refinery 29. 'My make-up artist had her own little oxygen tank, and before we'd go into hair and make-up for the show she'd give us a 10-minute little facial.'
'I do love oxygen facials when I can get to them. I think they're very good for us, our skin'. Ooh. *Runs to book oxygen facial*.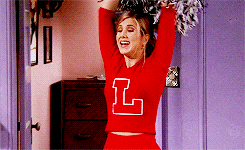 However, Jen adds that she also owes her good looks to genetics (damn!), as well as a clever skincare regime. 
'My dad's side of the family has really amazing skin,' she said. My grandmother, until the day she died, had the softest skin in the world. I kind of lucked out with the Greek genetics in that way…'
She added: 'But I've also always taken really good care of my skin. It's one of those things my mom beat into my head. "Take care of your skin; put on your moisturiser."'
See: Best Moisturisers…
And it sounds like Aniston's careful beauty regime has also rubbed off on husband Justin Theroux – turns out, these two love a couple's pamper night!
'He uses my beauty products, that is for sure,' Jen said. 'He'll just go right in there. We have a good Sunday-night mask together. That is when I put my Restore mask in my hair, I'll do a scrub, and I'll do a sheet mask or a cream mask. It's all about maintenance, baby.'
Naww. His 'n' hers facials sounds like our kind of Sunday night activity.